Film sector grows by more than 8%; fuelled by production and cinema ticket sales.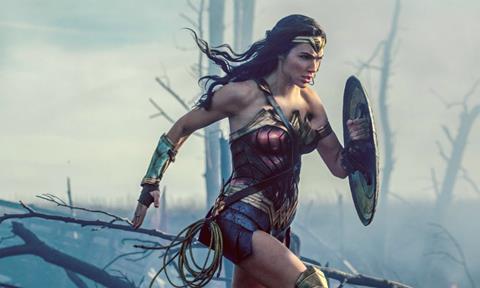 The British film industry played a key role in driving the growth in GDP in the last three months, according to the ONS (Office of National Statistics).
Their quarterly report showed that the UK economy grew by 0.3% in the three months to June, with a 0.5% rise in services driving this modest growth.
The film sector was the second largest contributor to this (behind retail trade), growing 8.2% compared to the previous quarter.
The film industry contributed 0.07% to GDP growth in this period. See the table below:
The report said total services output improved by 2.3% last quarter compared to 2016, adding that there has been "particular strength in the motion picture industry" during this period.
An ONS spokesman told Screen that production was the main driver of this growth, but that cinema ticket sales for films including Guardians of the Galaxy Vol. 2, The Fate Of The Furious and Wonder Woman also played a part.
The UK's film production sector is supercharged by foreign inward investment spend. The box office is also largely dominated by US movies.
In what is likely a Brexit-related finding, the report highlighted that growth in the UK film and publishing sector has "significantly outpaced" that in EU countries since early 2014, with film activities growing by 72.4% since Q1 2014, compared with only 8.5% across the EU. See the table below:
The ONS suggests this is partly because of the introduction of tax credits for film and TV productions, making the UK a more attractive prospect for production companies.
Last week it was revealed that there was a big rise in tax relief to the UK film and TV sector last year, rising from £339m in 2015 to £415m in 2016.
175 films claimed film tax credits in the last tax year, including Wonder Woman, T2: Trainspotting and Lady Macbeth.
Jobs boom
The news comes as the Department for Digital, Culture, Media and Sport announced that employment in the creative industries is growing at four times the rate of the UK workforce as whole.
They said that the sector employs almost two million people, up 5% on the previous year, compared to the wider UK workforce which grew by 1.2%.
The DCMS also report that in the film and TV sectors, BAME representation has jumped by 40% since 2015.
Outside of the film and service sectors, the ONS report painted a gloomy picture for the UK economy.
ONS Head of National Accounts Darren Morgan said: "The economy has experienced a notable slowdown in the first half of this year.
"While services such as retail, and film production and distribution showed some improvement in the second quarter, a weaker performance from construction and manufacturing pulled down overall growth."
Read more:
Fixing Britain's 'broken' independent film sector: is tax relief enough?