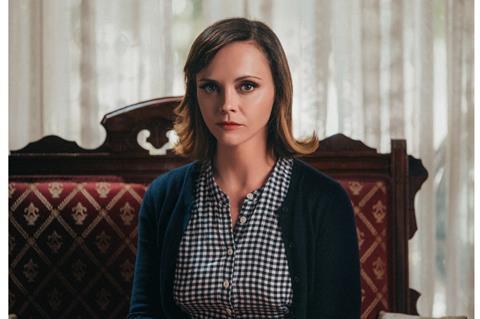 Clay Epstein's Film Mode Entertainment has revealed an exclusive first-look image of Christina Ricci thriller Monstrous and announced it has boarded at script stage family comedy The Mob Kid for global sales at AFM this week.
"We want to get the message out to the industry that we're getting involved earlier on projects we believe in," said Epstein, who was recently voted chairperson of Independent Film & Television Alliance and described the body-swap comedy as Freaky Friday in the mafia world.
Film Mode will also serve as executive producer on The Mob Kid which is about an old school mafia boss who swaps souls with his geeky, bullied son. The Trial Of The Chicago 7 co-EP Jonathan Benefiel is producing and wrote the screenplay. Songs by his late stepfather, the singer Frank Vestri, will appear on the soundtrack. Ani Kyd Wolf is also producing the project which is moving into pre-production.
In its capacity as exclusive international sales agent for Screen Media Ventures Epstein will continue talks with territory buyers on three features from its partner.
Monstrous gets its market premiere screening this week and tells of a mother and son who flee an abusive husband only to encounter a more terrifying foe. Also screening for the first time is Dig starring Thomas Jane and Emile Hirsch, about a divorced man and his daughter who are taken hostage at their home by a couple who want something buried beneath the property.
Epstein and his team will be showing the first promo on Mayim Bialik's feature directorial debut As Sick As They Made Us starring Dustin Hoffman, Candice Bergen, Simon Helberg and Diana Agron, about a divorced woman's bid for a second chance at happiness.