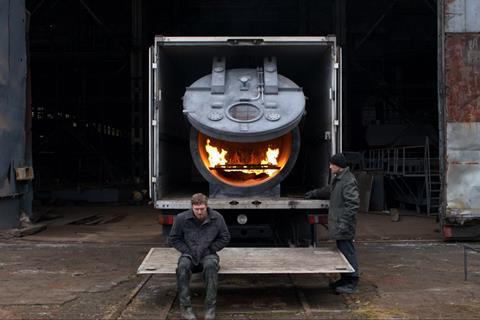 Film Movement has acquired North American rights from New Europe Film Sales to Ukrainian filmmaker Valentyn Vasyanovych's timely Venice 2021 selection Reflection.
The drama centres on a Ukrainian surgeon who tries to rebuild his life after he is released by Russian forces and is a chilling foreshadowing of the ongoing Ukraine-Russia war that erupted in late February.
The story opens in 2014 as Ukrainian surgeon Serhiy is captured by the Russians after he enlists to fight against them in the contested southeastern Donbas region.
As a prisoner of war he witnesses horrifying scenes perpetrated by his captors and is used to administer mercy killings to torture victims. Upon his release the traumatised man returns to his comfortable middle-class apartment and tries to rebuild his relationship with his daughter and former wife.
Reflection will open in theatres and via virtual cinema on May 6 followed by release on home entertainment and digital platforms. It played in official selection at Toronto, Thessaloniki, Busan and Tallinn Black Nights, among others. Film Movement president Michael Rosenberg announced the acquisition with Jan Naszewski, CEO of New Europe Film Sales.
The deal follows previous acquisitions by Film Movement of significant Ukrainian films: Sergey Loznitsa's dark comedy and Cannes 2018 selection Donbass (the film opened in New York on April 8) and Natalya Vorozhbit's drama and Venice 2020 entry Bad Roads were Ukraine's Oscar submissions in 2018 and 2020, respectively. The distributor also picked up Iryna Tsilik's 2020 Sundance premiere The Earth Is Blue As An Orange, which premieres on April 22.
"The current crisis in Ukraine, along with the atrocities we've been hearing about every day is nearly unimaginable for those not facing the horrors of war," said Rosenberg. "Valentyn, one of Ukraine's most talented filmmakers, delivers a painful and gruelling meditation on war and survival in a necessary film moviegoers won't soon forget."
Reflection will be released as part of Film Movement's 'Ukrainian Film Collection' depicting the experience of Ukrainians in the Donbas region. For all screenings the company is donating 10% of gross ticket sales to the Ukraine Crisis Fund administered by Americares, which is delivering medicine, medical supplies and emergency funding to support families and people affected by the Ukraine crisis.
Film Movement recently acquired 2K digital restorations of Asghar Farhadi's first two films, Dancing In The Dust and Beautiful City; digitally restored classics in the form of Ang Lee's Pushing Hands and Tsai Ming-liang's Vive L'amour; Bogdan George Apetri's Venice crime thriller Miracle, opening on June 3 in New York; and Nana Mensah's Queen Of Glory opening this summer.