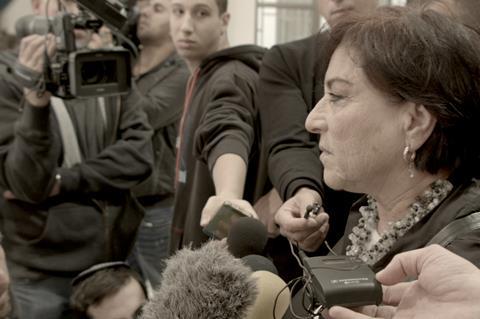 Film Movement has acquired US rights to Israeli documentary and Sundance premiere Advocate, which profiles the crusading attorney Lea Tsemel and her controversial work defending Palestinians.
The distributor negotiated the deal with Cinephil, who hold international sales rights, and plans a winter theatrical release followed by home entertainment and digital roll-out.
Directors Rachel Leah Jones and Phillipe Bellaïche use animation and juxtapose one of Tsemel's more recent cases with several earlier cases, including one where she defended her activist husband from an accusation of treason.
Tsemel has earned the sobriquet "the devil's advocate" in her native Israel for her decades of work championing Palestinians accused of resisting the occupation, be they non-violent demonstrators or armed militants.
The film was named Best Israeli Film at the DocAviv Film Festival, the jury prize at the Hong Kong International Film Festival, the Golden Horn at the Krakow Film Festival, and the FIPRESCI Prize and Golden Alexander at the Thessaloniki Documentary Film Festival.
"Advocate truly opens up a spotlight on human rights in Israel, but offers a point of view audiences rarely have," said Film Movement president Michael Rosenberg, who brokered the deal with Cinephil managing director Philippa Kowarsky. "Following Lea Tsemel as she courageously and passionately stands up for those denied a voice, it's a powerful and affecting documentary that's certain to resonate with US moviegoers."
Jones and Bellaïche produced Advocate alongside Home Made Docs, Paul Cadieux, FilmOption, Joelle Bertossa, and Close Up Films. The Israel-Canada-Switzerland documentary is co-produced by Hot 8, CBC/Radio Canada, RTS, SWR, NDR, EO/IKONdocs, and BBC/Storyville. It is produced in collaboration with Blue Ice Docs, with the support / participation of DR, YLE, SVT, VGTV, the support of Bertha Foundation, OFC, CineForum, Makor Foundation, and Sundance Documentary Fund, and with the help of CoPro, Hotdocs Forum, IDFA Forum, and IFP.
In addition to Advocate, Film Movement recently acquired Hlynur Palmason's Cannes Critics' Week drama A White, White Day, Peruvian crime drama Song Without A Name (Cancion Sin Nombre) from Melina Léon, and Jayro Bustamante's Ixcanul follow-up Tremors (Temblores).