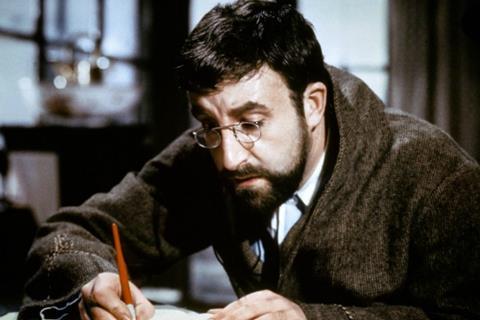 Film Movement Classics has acquired North American rights to five renowned or unusual films including Peter Seller's little-seen directorial debut Mr. Topaze, Luchino Visconti's final film L'innocente, and Bill Forsyth's beloved Gregory's Girl.
The roster includes Bruno Barreto's erotic comedy Dona Flor And Her Two Husbands, and King Hu's Raining In The Mountain.
Film Movement president Michael Rosenberg said all five films will get limited theatrical releases starting this year, followed by release on home entertainment and digital platforms.
Mr. Topaze (1961, pictured) was recently digitally restored in a 2K scan from surviving prints from the British Film Institute collection at the request of the British public following a vote. The bittersweet comedy is based on a Marcel Pagnol play in which Sellers portrays the eponymous French schoolteacher fired after refusing to alter the bad grades of a baroness' grandson. Mr. Topaze was originally released in the US as I Like Money.
Newly restored in 4K and based on the novel by Jorge Amado, Braziliam smash erotic comedy Dona Flor And Her Two Husbands (1976) earned a best foreign film Golden Globe nod and stars Sonia Braga as a widow who remarries and welcomes the ghost of her last husband when her current betrothed turns out to have no libido.
Scotland-set coming-of-age comedy Gregory's Girl stars John Gordon Sinclair) as a hormonally-charged student who falls for a new player on the football team (Dee Hepburn). Film Movement will release the restored 2K version at Film Forum in New York on Oct. 4, and the Museum of the Moving Image will celebrate the director at the end of September with a five-film retrospective.
L'innocente stars Giancarlo Giannini as a late-19th century nobleman and philanderer who descends into madness when he learns his wife has been having an affair. Visconti completed the film in 1976 shortly before his death.
Raining In The Mountain takes place in a secluded Ming Dynasty monastery where various conniving characters plot against each other. Recently restored in 2K, the film will follow Film Movement Classics theatrical release of Hu's wuxia Classic The Fate Of Lee Khan.
"Over the past year, we've been fortunate enough to acquire some true classics, including John Woo's Heroes Shed No Tears, Oscar nominee Farinelli, Stanley Kwan's Hong Kong New Wave classic, Center Stage, and Philip Ridley's 1991 cult film, The Reflecting Skin," said Rosenberg. "Our commitment to unique and award-winning acquisitions for the Film Movement Classics label is paying off, as we continue to build a robust catalog of cinematic gems."