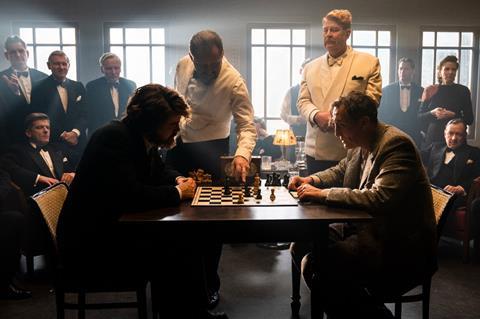 Film Movement has picked up all North American rights from Studiocanal to Philipp Stölzl's upcoming wartime drama Chess Story, which will be released internationally as The Royal Game.
Eldar Grigorian adapted the screenplay from Stefan Zweig's novella of the same name about Dr. Josef Bartok, a lawyer who recalls on a cruise his prior torture and imprisonment by the Nazis in Vienna.
After Austria is taken over by the Germans in 1938, Bartok and his wife attempt to flee before he is captured and interrogated by the Gestapo, who order him to reveal secrets about the assets of Austrian nobility.
When he refuses, he is condemned to solitary confinement and discovers a book about chess which helps him endure the hardship.
Oliver Masucci, who starred in When Hitler Stole Pink Rabbit and Look Who's Back, stars as Bartok, alongside Birgit Minichmayr as his wife Anna, and Albrecht Schuch as Gestapo head, Böhm.
The film will open in Germany on September 23. Germany's Walker+Worm Film produces Chess Story in co-production with Austrian company Dor Film and Studiocanal Film. The film received financial support from FilmFernsehFonds Bayern, Medienboard Berlin-Branderburg, German Federal Film Board, German Federal Film Fund, Bayerischer Bankenfonds, FISA – Filmstandort Austria, ORF, Austrian Film Institute, and Vienna Film Fund.
"We are thrilled to team up with Film Movement on The Royal Game / Chess Story," Studiocanal head of sales Chloé Marquet, "We can't wait for North American audiences to discover this strikingly cinematic and moving adaptation, with its timeless story of resilience and resistance."
Film Movement president Michael Rosenberg added, "The incredible success of The Queen's Gambit shows that stories about chess can capture the imagination of contemporary audiences. Stölzl's re-imagining of Zweig's novel, first adapted to the screen in 1960, is certain to be welcomed by audiences interested in the game of kings."
Rosenberg negotiated the deal with Loubna Berrada, VP International Sales at Studiocanal.
Film Movement recently acquired Jeanette Nordahl's crime drama Wildland, and Ryûsuke Hamaguchi's 2021 Berlinale Silver Bear winner Wheel Of Fortune And Fantasy.