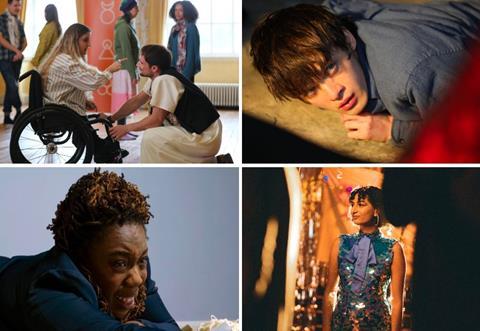 Film4 has commissioned a collection of four short films from disabled and neurodivergent filmmakers titled '4Love'.
The filmmakers, who include 2020 Screen Stars of Tomorrow Ella Glendining and Matilda Ibini, were commissioned by Film4 to create a short film inspired by or challenging the theme of love.
104 Films, a production company that regularly works with disabled and neurodivergent UK talent, produced the films which will be released in the UK later this year.
Speaking of the initiative, producer Justin Edgar said: "These films are truly ground-breaking because they were made by disabled writers and directors, star disabled actors, with at least 25% disabled crew behind the scenes."
Glendining's short film is called Pyramid Of Disunion and is about a wheelchair user hoping to find herself in an eco-commune. Glendining, whose debut feature documentary Is There Anybody Out There? world premiered at Sundance this year, wrote the screenplay and co-directed with Jessi Gutch.
Battery is set in a post-apocalyptic world and follows a man using his final wheelchair battery to meet his boyfriend for one last dance. It is written by Tom Wentworth and directed by Ewan Marshall whose credits both include the Bafta-nominated short form series CripTales.
Dope Fiend is written by Kiri Degon and Rosanagh Griffiths about a woman who is able to discover what life is like for her neurodivergent wife. Griffiths also directed the film and it is produced by Lorine Plagnol.
The final short is called Mo <3 Kyra 4Eva and is set during a high school prom where a girl finally decides to let the girl of her dreams know how she feels. It is written by Ibini and directed by Debbie Hannan.
Film4's development and production executive Max Park added: "We are thrilled to announce 4Love – four distinctive short films from filmmakers who represent the very best of disabled talent in this country. They capture a broad spectrum of stories and genres, exploring the theme of love from a fresh and unique perspective. Channel 4 has a long history of championing disabled talent on and off-screen, so Film4 are proud to play a part in nurturing the next generation of disabled filmmakers."