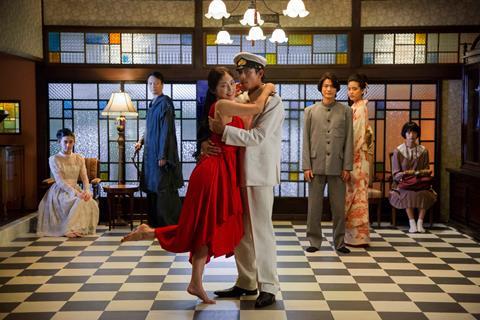 Japan's Free Stone Production has sold Hanagatami – the last film in director Nobuhiko Obayashi's "wartime trilogy" after Casting Blossoms To The Sky (2012) and Seven Weeks (2014) – to China (Lemon Tree).
Based on a script Obayashi wrote prior to his 1977 debut feature House, Hanagatami is set in spring 1941 when Toshihiko, played by Shunsuke Kubozuka, shows up at the home of his aunt (Takaki Tokiwa) in Karatsu, Saga Prefecture. Entertaining a crush on his tubercular cousin Mina (Honoka Yahagi), while reveling in his "depraved" adolescence with other girls, he indulges in courage-testing escapades with his school buddies around the time the Pacific War is breaking out.
The film made its international premiere at the recent International Film Festival Rotterdam after screening at Fukuoka International Film Festival and Tokyo International Film Festival.
The company is also selling Born Bone Born (aka Senkotsu), the sophomore feature of Okinawan comedian Toshiyuki Teruya, who made his directorial debut with Minami No Shima No Furimun.
Starring Eiji Okuda and Michitaka Tsutsui, Born Bone Born is based around the Okinawan ritual of Senkotsu, now not commonly pursued, of burying a dead body in a tomb, taking it out after the flesh is gone and cleansing the bones before putting it back so the soul can finally leave this world. Currently in post-production, the film is set for local release later this year.