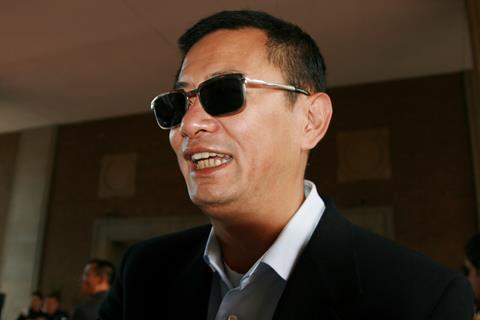 Continuing a trend at this year's Filmart for high-profile episodic series, China's Huanxi Media has teased a few details of Wong Kar Wai's upcoming web series, which has the working title Paradise Guesthouse.
Expected to start production in the first half of 2019, the series will revolve around the female proprietor of a guesthouse in a coastal town in mainland China. The story will follow her interactions with different guests, who will be introduced across the 12 x 45 minute episodes of the series.
"We think the project will be very interesting and have major international appeal," Huanxi Media CEO Steven Xiang told Screen. "He's putting a lot of effort into it and really embracing the format. Both him and Peter [Ho-sun Chan], who is also developing a web series for us, really understand so much about the Western approach."
Huanxi first announced the project with Wong in 2016, but no details have emerged since. The series will debut on its high-end streaming platform, huanxi.com, in mainland China, although international rights will be made available. The platform also has exclusive rights to Wong's library titles for mainland China.
Wong was previously attached to Amazon web series, Tong Wars, about Chinese immigrants in the US in the 19th Century. However, an Amazon spokesperson said the project is no longer in active development and the company has relinquished the rights.
Meanwhile, Huanxi is already in production on Run For Young, a 20-episode web series and feature film, which Zhang Yibai is directing back-to-back in Chongqing. Peng Yuchang is starring in the series based on Li Zelin's award-winning youth-focused novel.
Founded by Dong Ping in 2015, Huanxi has contracts with several high-profile Hong Kong and Chinese filmmakers, some of whom are shareholders in the company. Recent productions include Zhang Yimou's One Second, while upcoming films include Xu Zheng's Lost In Russia, scheduled for 2020 Chinese New Year release, Chan's Li Na and Advanced Animal, executive produced by Gao Qunshu.
At recent markets, Huanxi has also been acquiring international titles for its platform, including Julian Schnabel's At Eternity's Gate, Florian Henckel von Donnersmarck's Never Look Away and Ziad Doueiri's The Insult.
It also recently launched Ning Hao's Chinese New Year hit Crazy Alien on the platform, turning down offers from China's big three streaming services.
Online ticketing giant Maoyan recently took an 8% stake in Huanxi in return for rights to co-invest in its content and will also provide the company with online and theatrical marketing and distribution support.