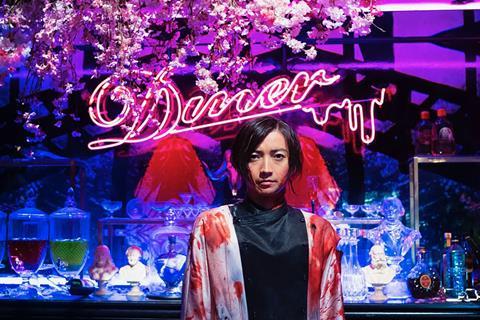 Japan's Nippon TV is launching sales on three new titles at Filmart led by Diner, directed by Mika Ninagawa (Helter Skelter) and starring Tatsuya Fujiwara (Death Note).
Based on a novel by Yumeaki Hirayama, the suspense thriller follows a girl who is forced to work at a members-only diner that caters exclusively to murderers. Even the chef is a former assassin, and she can't afford to make a single wrong move. Produced by Cine Bazar Inc, the film is set for local release on July 5.
Almost A Miracle is directed by Yuya Ishii (The Great Passage), who wrote the screenplay with Sho Kataoka (Yellow Elephant). Starring Kanata Hosoda and Nagisa Sekimizu, it's the story of a high-school boy who is exceptionally kind and self-sacrificing – until he meets someone special and realises that being kind to everyone could cause them harm. Produced by Plus D, the film is set for local release on June 7.
The Fable, directed by Kan Eguchi with a screenplay by Yusuke Watanabe (Gantz), stars Junichi Okada (Eternal Zero), Fumino Kimura (Initiation Love) and Mizuki Yamamoto (Peach Girl). The film follows a legendary assassin called Fable who is ordered by his boss to live a normal life without killing anyone for a year, on penalty of death if he doesn't succeed. But events take an unexpected turn when other elite assassins set out to kill him.
Produced by geek sight inc, the film is set for local release on June 21.