EXCLUSIVE: Five films to screen on streaming platform in August.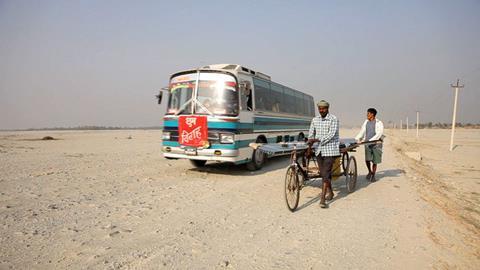 New York-based streaming platform Filmatique has curated an August selection in partnership with the Locarno Festival.
Filmatique will screen five features that screened under the auspices of the Locarno Open Doors international co-production initiative in 2016.
The programme runs from 2016-2018 and is designed to help South Asian filmmakers from Afghanistan, Bangladesh, Bhutan, Maldives, Myanmar, Nepal, Pakistan and Sri Lanka. The Locarno Festival opened this week and runs through August 12.
The selections on Filmatique include: Deepak Rauniyar's Highway (pictured), which charts the lives of passengers aboard a bus from Darjeeling to Kathmandu; Bangladeshi filmmaker Rubaiyat Hossain's exploration of religious fundamentalism and patriarchy in her second feature, Under Construction; and Burmese filmmaker Maw Naing's The Monk, about a young man's crisis of faith deep in the countryside of Myanmar.
Rounding out the five are two films about contemporary Sri Lanka: Rasanna Jayakody's 28 and Vimukthi Jayasundara's The Forsaken Land.
"I learned about Open Doors when I was in Berlin this year and I immediately connected with the programme and thought the films they were presenting could have been a perfect fit for the direction Filmatique is taking," Lorenzo Fuizzi, one of the service's three co-founders alongside Melinda Prisco and Ursula Grisham, said.
"Sarah Schiesser, Open Doors Coordinator for the Locarno Film Festival, was very responsive and helped us a lot getting this focus off the ground. I'm very happy we worked this out. I hope we can make more and more of this kind of collaboration."
Highway is available to view immediately, while Under Construction arrives on the platform on August 10, The Monk August 17, The Forsaken Land August 24, and 28 August 31.
Fuizzi and his partners set up Filmatique last year to highlight world cinema that might ordinarily struggle to get distribution. Recent curated months have featured Brazil, new Asian voices, foreign language Oscar submissions, and banned nations, in reference to films from countries that were on President Trump's controversial travel ban list.
Commencing August 17 Filmatique will screen short films from Locarno Open Doors alongside the features.
The service costs $4.95 a month and is also available on Apple TV. For more details on Locarno Open Doors click here.