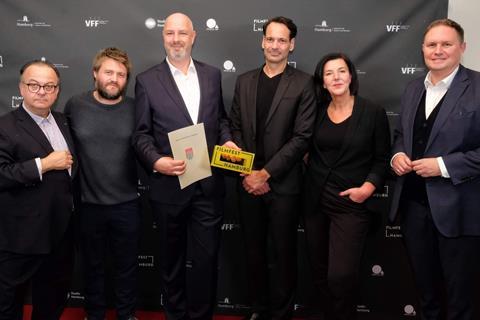 Prize money totalling €125,000 ($144,668) was handed out to 10 films screening in this year's Filmfest Hamburg (September 30-October 9), which saw jury prizes return following a hiatus in 2020 due to the pandemic.
On Friday evening (October 8) at Hamburg's producer awards, the jury comprising producer Martina Haubrich and directors Julian Pörksen and Arman T. Riahi presented the producers award for German cinema productions, worth €25,000 ($28,933), to Jonas Weydemann of Weydemann Bros for Sabrina Sarabi's No One's With The Calves, which had been screened in the Grosse Freiheit section.
Sarabi's second feature had its world premiere in August at the Locarno Film Festival where Saskia Rosendahl received the Leopard for best actress. It will be released in German cinemas by Filmwelt in January.
Melanie Andernach of Made In Germany Filmproduktion received the Hamburg producers award for international cinema productions, worth €25,000 ($28,933), for her co-production of Mahamat-Saleh Haroun's Lingui, The Sacred Bonds with partners from France, Belgium and Chad.
In addition, colour grading worth €15,000 ($17,361) went to the film's French production partner, Paris-based Pili Film.
The jury of film editor Andrew Bird, Iranian DoP and producer Mohammad Reza Jahanpanah and talent agent Marie Luise Schmidt also gave a special mention to Syrian filmmaker Ameer Fakher Eldin's The Stranger which was co-produced by Dorothe Beinemeier of Hamburg-based Red Balloon Film.
Jürgen Schuster of Fandango Film took home this year's Hamburg producers award for German TV productions, worth €25,000 ($28,933), for Florian Froschmayer's TV film Sleepless In Portugal - which had screened in the Filmfest's Televisionen sidebar.
A new special prize worth €5,000 ($4,239) for serial formats went to producers Ulf Israel and Reik Möller of the Wild Bunch AG subsidiary Senator Film for the second season of Waiting For The Bus commissioned by public broadcaster Rundfunk Berlin-Brandenburg (rbb).
Closing ceremony
The rest of the festival's awards were handed out at Saturday's closing ceremony.
The CICAE's Art Cinema Award worth €5,000 ($4,239) in publicity support to the winning film's German distributor was presented to Torsten Frehse of Berlin-based Neue Visionen for Jacques Audiard's Paris, 13thDistrict.
Two of the film's actors Lucie Zhang and Makita Zamba were in Hamburg to accept the award in person before Audiard's film officially closed this year's edition of the Filmfest.
In addition, the critics' choice award, awarded in collaboration with the German Film Critics Association, went to Gaspar Noé's story Vortex, whilst the €10,000 ($8,478) Sichtwechsel Film Award went to Elie Grappe's coming of age film Olga.
This year's €5,000 ($4,239) audience award went to director Abdallah Al-Khatib's feature documentary Little Palestine, Diary Of A Siege, which chronicles everyday life in Yarmouk, a district of Damascus, during the Syrian civil war.
Other winners included Teodora Ana Mihai's La Civil (political film award); Blerta Basholli for Hive (young talent award); and Linda Hambäck's The Ape Star (children's jury award).
Audience figures
Filmfest director Albert Wiederspiel revealed at the closing ceremony that 24,859 tickets had been sold for screenings in the festival's five cinemas, even though seating capacity had been restricted to 50% due to Covid regulations.
This was more than half of the admissions total for the 2019 pre-pandemic edition when 45,000 festival-goers had attended screenings in 11 Hamburg cinemas.
"We had amazing weather for practically all the ten days of the festival, but this did not take away the desire of the audience to come into the cinemas," he said. "People are still open for cinema and accept all the restrictions like wearing masks during the screenings. It has been a great confirmation of the power of cinema."
Looking ahead to the Filmfest's 30th anniversary edition in 2022, Wiederspiel expressed his hope that there would be "a 100% festival completely without seating restrictions and without masks [and] with even more audience and many guests and parties."