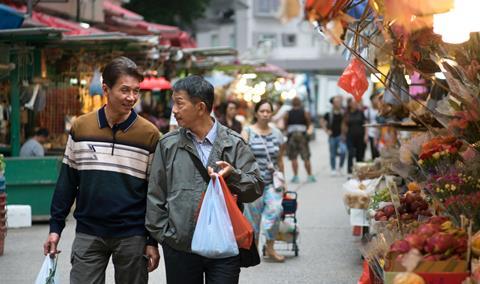 Berlin-based sales company Films Boutique has closed Asian deals on Hong Kong filmmaker Ray Yeung's love story Suk Suk, to Cai Chang International for Taiwan and to Golden Scene for Hong Kong.
Suk Suk is nominated for a slew of Golden Horse Awards, held in Taiwan on Saturday November 23.
The tale of two Hong Kong grandfathers who fall in love premiered at Busan and then made its market debut at the AFM.
"This film celebrates love in a way that is very rarely seen in Hong Kong cinema," said Golden Scene's Felix Tsang.
Suk Suk is nomimated for best feature, original screenplay and best actor, for both Tai Bo and Ben Yuen, as well as best supporting actress for Patra Ga Man Au.
It was produced by New Voice Film Productions CEO and film director Ray Yeung, producers Michael J Werner, Teresa Kwong, Chowee Leow, and executive produced by Ray Yeung and Stanley Guingon.
Taiwan's Golden Horse Awards has been hit by regional tensions this year after the Chinese government banned mainland Chinese filmmakers from submitting their films to the competition amid a flare-up in the longstanding dispute between China and the island state over the latter's autonomous status.
The ban was not officially extended to Hong Kong but because China-Hong Kong co-productions depend heavily on the mainland Chinese market for their commercial success, they are also mainly absent from the Golden Horse Awards this year.