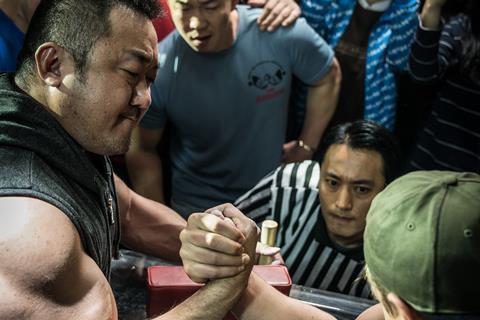 South Korean sales company Finecut has picked up Warner Bros Korea's arm-wrestling comedy Champion, starring Don Lee (a.k.a. Ma Dong-seok), whose credits include Train To Busan.
Previously noted as a solid supporting actor in films such as Ryoo Seung-wan's Veteran and Yoon Jong-bin's Nameless Gangster: Rules Of The Time, Lee is perhaps best known as the brawny husband with a pregnant wife who survives a zombie outbreak in Yeon Sang-ho's Train To Busan. The film clocked up $93.1m at box offices worldwide, according to Finecut.
Last year, he starred in Kang Yun-sung's crime action film The Outlaws, which racked up more than 6.88 million admissions and $52.75m at the local box office, according to the Korean Film Council (KOFIC).
Currently in post-production, director Kim Yong-wan's feature debut Champion follows the story of Korean adoptee Mark on his journey from the US to become an arm-wrestling champion in Korea.
Finecut says it was on Ma's "bucket list" to be in an arm-wrestler film "like his hero Sylvester Stallone" and that although he "was never a competitive arm wrestler or an adoptee, many aspects of the plot mirror his personal story as a Korean growing up in the US", which informed the script.
Presented by Warner Brothers Pictures, Champion is scheduled to be released locally in early May.
Finecut will launch sales in Cannes for international rights excluding China, Singapore and in-flight.
The company is also selling Lee Chang-dong's Cannes Competition title Burning, along with other films such as creature feature Monstrum and animation Red Shoes And The Seven Dwarfs (working title).