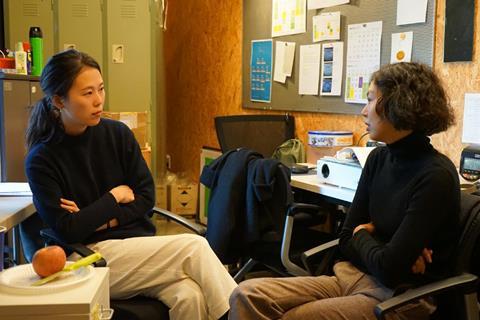 South Korean sales agency Finecut has sealed a raft of deals on The Woman Who Ran, directed by Hong Sangsoo, who won the Silver Bear for best director with the film at the recently wrapped Berlinale.
The film sold to France and French-speaking Switzerland (Capricci Films), Portugal (Midas Filmes), Spain (Capricci Cine), Taiwan (AV-JET International Media Co), Australia and New Zealand (CMC Pictures) and Brazil (Providence Filmes). It was previously announced that the film has also sold to The Cinema Guild for the US.
Hong's fourth outing to the Berlinale Competition, The Woman Who Ran followed his 2017 work, On The Beach At Night Alone, which picked up that year's best actress Silver Bear for Kim Minhee.
Kim starred in On The Beach At Night Alone with Seo Younghwa. Both actors also star in Hong's latest film.
The Woman Who Ran follows Gamhee (Kim) who meets with three women on the outskirts of Seoul while her husband is away – first visiting two close friends and then running into an older acquaintance at an independent cinema – as undercurrents flow in their conversations.
Produced by Jeonwonsa Film, the title is set for local release this spring through Contents Panda. Finecut reports a "soaring" level of inquiries from buyers after the Berlinale win.