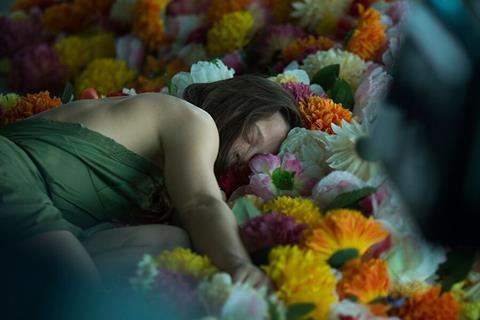 Screen can reveal a first look at Mari, the Film London Microwave feature starring acclaimed dancer Bobbi Jene Smith.
The project, which recently wrapped its shoot in Sherborne, Dorset and London, is the debut feature from writer-director Georgia Parris and producer Emma Duffy.
It was commissioned through Film London's Microwave scheme, the low-budget feature initiative which is backed by the BFI and BBC Films, with support from Creative Skillset. Further backing came from Intermission and Boudica Films.
Mari, a drama with dance elements, also stars Phoebe Nicholls (The Elephant Man) and has original choreography from Maxine Doyle (choreographer at theatre group Punchdrunk).
The film tells the story of professional dancer and choreographer Charlotte (Bobbi Jene Smith), as she prepares for a new show. Charlotte's world is turned upside down when she discovers that she is pregnant and that her grandmother Mari is coming to the end of life, forcing her to confront her past to choose the future she wants.
Mari is the third of the latest six-strong Microwave slate to go into production. The other titles are: The Visitor, Sick(er), Looted, Zero and Violets Are Blue.
Georgia Parris' previous shorts include Brighter Borough, which screened at London Fashion Week. Mari is based on her 2017 short Abandon.
Bobbi Jene Smith previously starred in Elvira Lind's 2017 biographical film Bobbi Jene, which won Best Documentary at Tribeca Film Festival.
Key crew on Mari include DoP Adam Scarth (Daphne), costume designer Holly Rebecca (I Am Not A Witch), editor Napoleon Stratogiannakis (Apostasy), make-up artist Bean Ellis (God's Own Country), and Aisha Bywalters (My Brother The Devil).