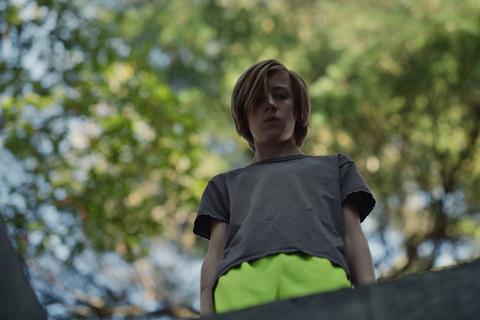 Screen has obtained an exclusive first-look image of Cannes official selection John And The Hole.
Visual artist Pascual Sisto's feature directorial debut is based on a screenplay from longtime collaborator and Oscar-winning Birdman co-writer Nicolás Giacobone.
The coming-of-age psychological thriller plays out the unsettling reality of a child who holds his family captive in a hole in the ground, and stars Charlie Shotwell, Michael C Hall, Jennifer Ehle, and Taissa Farmiga.
The film shot in the Boston area in September/October 2019 and was produced by Mutressa Movies, the Boston- and Los Angeles-based company behind this year's Eliza Hittman's Berlin Silver Bear grand jury prize winner Never Rarely Sometimes Always.
UTA's Nick Shumaker and Carolyn Sivitz represent the filmmakers and ICM represents Mutressa Movies. John And The Hole is not taking part in the Cannes virtual market and the goal is to land a physical premiere slot at a prestige festival.
Buenos Aires-born Giacobone said, "It's not unusual to dream of throwing someone in a hole. Most times that hole ends up being metaphorical, the dream almost never becomes reality. But what if we could actually throw that someone in a hole and keep him/her there. What if that someone was our whole family?
"The question pushed me into writing the short story El Pozo that ended up being the inspiration for John And The Hole."
Mutressa Movies produced and financed John And The Hole, and co-financier 3311 Productions are executive producers, in association with co-financier Oscura Film.
Elika Portnoy, Alex Orlovsky, and Michael Bowes served as producers, while the executive producers are Sisto, Giacobone, Ross Jacobson, Jennifer P Dana, Tony Pachella, Mark Roberts, Phil Hoelting, and Marco Vicini.
Credits for Mark Roberts and Ross Jacobson's 3311 include The Assistant and Brigsby Bear, and the upcoming The Violent Heart.