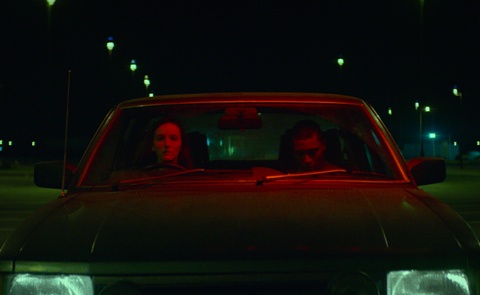 Film Constellation has released the first-look image from upcoming Toronto Discovery world premiere Kissing Candice, which Fabien Westerhoff and his team will introduce to buyers next month.
Northern Ireland's Aoife McArdle, who directed the short film Every Breaking Wave for U2, makes her feature directorial debut on the gang thriller that shot on location in Ireland.
Kissing Candice centres on a 17-year-old girl who longs to escape the boredom of her seaside town and finds solace in her imagination. When her disillusionment calcifies into an obsession with a troubled stranger, she becomes entangled with a dangerous local gang.
The story takes place around the Irish border and features rising stars Ann Skelly and Ryan Lincoln in the roles of Candice and Jacob.
Andrew Freedman of Dublin-based Venom Films and Sally Campbell of London's Somesuch & Co served as producers. The film was developed and produced with the support of the Irish Film Board.
London-based Film Constellation will launch world sales on Kissing Candice in Toronto and jointly represents US rights with WME Global.
"This is the breakout of an exciting new female genre voice," Film Constellation founder Westerhoff said. "Aoife's impressive visual style infuses a unique sense of pulp and danger that will leave people on the edge of their seat."
U2, Bono and Jefferson Hack commissioned McArdle's short film Every Breaking Wave based on the U2 song. Her music video credits include the MVA-winning Open Eye Signal for Mercury Prize nominee Jon Hopkins, and commercials clients include Audi.
Film Constellation's current slate includes period drama Tell It To The Bees starring Holliday Grainger and Anna Paquin; Antonio Mendez' Toronto-bound drama Life And Nothing More; London-set musical Been So Long; Rory Kennedy's surf film Take Every Wave with Laird Hamilton; romance Permission with Rebecca Hall and Dan Stevens; and David Lynch's The Art Life.
Venom Films co-produced Michael Madsen's The Visit, Kieran Evan's Kelly + Victor, and Ken Wardrop's Mom And Me.