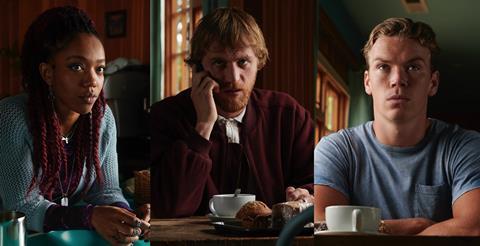 Screen can reveal an exclusive first look at Naomi Ackie, Johnny Flynn, and Will Poulter in heist musical The Score, Malachi Smyth's feature debut.
Flynn and Poulter play Mike and Troy, small-time crooks on a job that will change their circumstances. Troy falls for waitress Gloria (Ackie) and begins to question his life choices - not knowing that real danger is on its way to meet them.
It began shooting in the UK on August 31, having been delayed the day before production was supposed to start on March 17 due to Covid-19.
Screen revealed last month that Lydia Wilson (Star Trek Beyond) has joined the cast, and spoke to Smyth about the changes needed due to new coronavirus regulations.
Written and directed by Smyth, The Score is produced by Matthew James Wilkinson of Stigma Films and Ben Pullen of Sentinel Entertainment. Isabelle Georgeaux of Pont Neuf is co-producing.
The executive producers on The Score are Flynn; Nick Angel, who recently collaborated with producer Wilkinson on Yesterday; and Tim Dellow of Transgressive, which represents Johnny Flynn's music. WestEnd Films is handling world sales at Toronto.