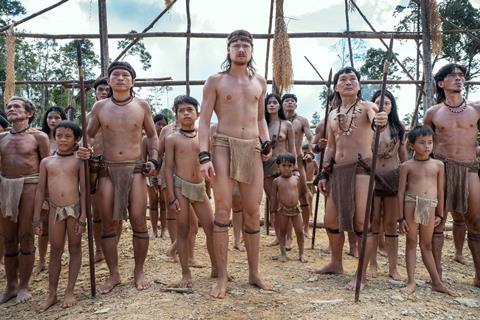 Screen can exclusively reveal the first image from Swiss director Niklaus Hilber's Paradise War, being sold by TrustNordisk and now in post-production.
Swiss director Niklaus Hilber had to display his own adventurous spirit during the 77-day shoot for Paradise War, about the Swiss explorer and environmentalist Bruno Manser.
Manser lived with the Penan tribe in Sarawak. Malaysia from 1984 to 1990, also organising protests against the logging companies that were ruining their environment. Paradise War shot mostly in the jungles of Kalimantan on the Indonesian side of Borneo, to stand in for Sarawak.
Director Hilber, whose past credits include 2015's Amateur Teens, explains, "Shooting in the jungle with indigenous peoples and a foreign crew inevitably brings its own problems. Every day something unexpected happens or doesn't pan out as it should. The climate was extreme…Another big problem, because there was so much standing about in water, was trench foot, which is a fungal infection that makes walking painful. Oh, and one day, a huge tree fell and destroyed half of our set. Luckily, no one was hurt."
Swiss actor Sven Schelker plays Manser, and the director wanted to be authentic with non-professional actors playing the tribesmen. "This story belongs to the Penan, I would never have used English-speaking actors from, let's say, the Philippines. But this decision meant that I had to trek through the jungle to remote villages and cast Penan who I felt could be coached into acting," he explains. "None of them had any concept of what being in a film meant. I had to gain their trust, because we had to fly them from Malaysia to Indonesia and accommodate them in a unfamiliar environment for three months. In this way I found Nick Kelesau (who takes the role of Along Sega), whose late father was a friend of Bruno Manser."
The creative team includes DoP Matthias Reisser and and editor Claudio Cea. Hilber wrote the script with Patrick Tönz and David Clemens. Valentin Greutert produces for Zurich-based A Film Company in coproduction with Philip Delaquis for Das Kollektiv (Switzerland). Ascot Elite are handling Swiss distribution for the film.
Manser disappeared in the jungle in May 2000, yet Hilber knows his story is exceedingly relevant today. "Manser realized something that we have only just began to learn - we have to cooperate with nature, not fight it in order to survive. He wanted to throw off the chains of civilization and get back to what he saw as the paradise of nature. For Manser, this was not only an outward, physical journey, but also an inward, psychological and spiritual one. Searching for a lost paradise in the jungle expressed his yearning to find that paradise in his own soul. We in the West have become estranged from our natural roots. Manser was an activist because he was first and foremost a philosopher and a dreamer, of course, he didn't necessarily know this. The unstoppable tide of globalization today means that we need more people like Bruno Manser than ever."