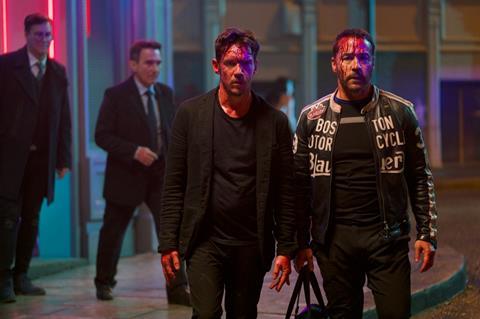 Voltage Pictures continues to grow its virtual Cannes market slate and has acquired international sales rights to art heist thriller American Night Jonathan Rhys Meyers, Emile Hirsch, Paz Vega, and Jeremy Piven.
Alessio Della Valle wrote and directed the story about a New York mob boss (Hirsch) with aspirations to become an artist who crosses paths with an art dealer (Meyers) when Andy Warhol's 'Pink Marilyn' is stolen.
Meyers and Piven are shown in the first-look still from the film.
Fortunato Cerlino, Michael Madsen, Annabelle Belmondo and the pop star Anastacia round out the key cast on American Night, which features artwork by Andy Warhol, Mario Schifano and Jeff Koons, among others.
Martha Capello of Martha Production, Ilaria Dello Iacono of Pegasus Entertainment, and Giorgio Ferrero are producing in association with Giovanni Cova and Sergio Romerio of QMI, with RAI Cinema.
Voltage president and COO Jonathan Deckter announced the acquisition on Thursday (June 10). Voltage brokered the deal with ICM Partners, which represents US rights.
The Voltage market sales slate includes action heist-thriller The Yacht, starring Ruby Rose, Patrick Schwarzenegger and Frank Grillo, Renny Harlin's horror-thriller Refuge starring Jason Flemyng and Raza Jaffrey, and Japanese horror Room 203.