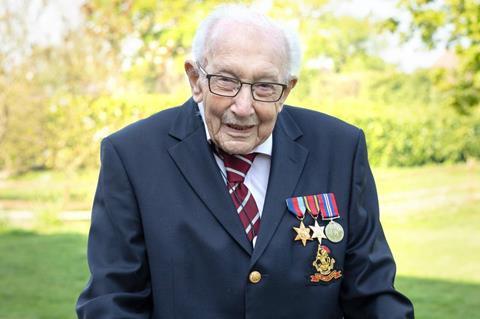 UK production companies Fred Films and Powder Keg Pictures have secured rights to the story of Tom Moore, the former British Army Captain who raised £38.9m for the National Health Service during the Covid-19 pandemic.
Fred Films' James Spring and Powder Keg's Nick Moorcroft and Meg Leonard will produce a feature about Moore's life, which will shoot in 2021. Moorcroft and Leonard are writing the screenplay.
The film will focus on Moore's relationship with his family after he moved into their home in his 80s following the death of his wife. It will also explore his military career, including service in the Second World War, and his famous fundraising efforts of walking laps of his garden in the run-up to his 100th birthday.
"I don't know of any 100-year-old actors but I'm sure Michael Caine or Anthony Hopkins could do a wonderful job if they were prepared to age up!" said Moore.
Fred Films and Powder Keg previously collaborated on 2019's Fisherman's Friends, which grossed £7.4m in the UK and Ireland; and 2018's Finding Your Feet, which took £6m.
Their next collaboration is Blithe Spirit directed by Edward Hall, an adaptation of Noel Coward's 1941 comedy play starring Dan Stevens, Leslie Mann, Isla Fisher, and Judi Dench, which Studiocanal will release on December 26, 2020 in the UK and Ireland.
"We received so many offers but what it boiled down to was trust," said Moore's daughter Hannah Ingram-Moore. "The family are big fans of the films James, Meg and Nick have written and produced and we hope that our story connects with audiences in the same way their previous films have done."
In a joint statement, Moorcroft and Leonard added: "This is a story about the power of the human spirit and Captain Sir Tom personifies that."