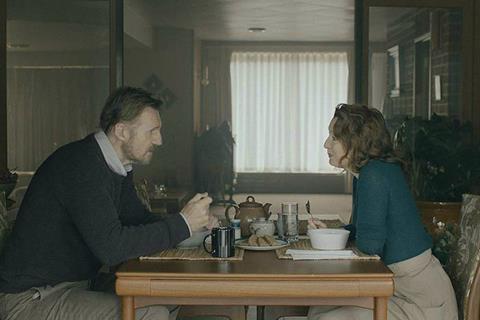 Focus Features has picked up a host of international rights to Normal People, the drama shot in Northern Ireland starring Liam Neeson and Lesley Manville.
The film will be distributed through Universal Pictures International (UPI) in the UK and further international territories, though the distributor declined to specify where it would release. UPI works across countries including Italy, Germany, Switzerland, the Netherlands, France, Russia, Korea, and Australia. The deal was struck with sales agent Bankside Films.
Bleecker Street previously acquired US rights. The film is now completely sold out worldwide aside from Canada, which is under negotiation.
The remaining territory deals are: Airlines (Entertainment in Motion); former Yugoslavia (Fox Vision); India (PVR); China (DDDream); Indonesia (Sahamongkol Films); Israel (Forum Films); Greece (Tanweer); Latin America (California); Middle East (Front Row); Scandinavia (Scanbox); South Africa (TMF); Spain (Inopia); Turkey (Tanweer).
Directed by Lisa Barros D'Sa and Glenn Leyburn (Good Vibrations, Cherrybomb), the film follows Joan (Manville) and Tom (Neeson), a couple whose long marriage has brought an easy rhythm to their relationship. That balance is disrupted when Joan is diagnosed with breast cancer, and the pair face new challenges as her treatment gets underway.
Brian J. Falconer produced for Out of Orbit, with David Holmes for Canderblinks Films and Piers Tempest for Tempo Productions.
The film is based on a script from Irish playwright Owen McCafferty.
Natascha Wharton for the BFI, Phil Hunt and Compton Ross for Head Gear Films, Stephen Kelliher for Bankside Films and Jo Bamford for Tempo Productions serve as executive producers. Head Gear Films, Northern Ireland Screen and the BFI financed.