Lee Yong-kwan and three other former festival executives given suspended jail sentences by Busan District Court.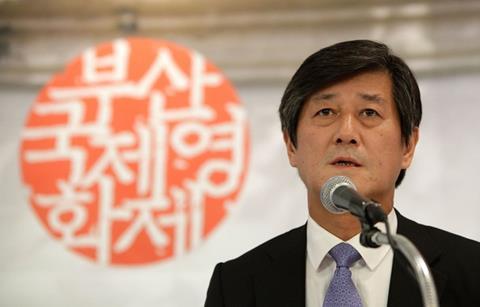 Former Busan International Film Festival (BIFF) director Lee Yong-kwan was given a suspended sentence of six months jail time with two years probation for embezzlement of funds by Busan District Court today (October 26).
Prosecutors indicted Lee in May, saying that although he had not pocketed any money personally, he had issued, along with then secretary general Yang Heon-gyu, a brokerage fee of approximately $23,000 to a partner company that had seen losses while working with BIFF trying to start a TV channel for festival films.
Yang was also sentenced to six months jail time, suspended with one year of probation. Both claimed that Lee was unaware of the brokerage fee being issued until after the fact.
Lee expressed surprise at the heavy sentencing and briefly told reporters after the ruling that he would appeal the judgement.
With senior members of the BIFF organisation – chairman Kim Dong-ho, festival director Kang Soo-youn, executive programmer Kim Ji-seok and Asian Cinema Fund director Hong Hyosook – all in Tokyo for the film festival, BIFF had no official comment to make today.
Speaking as an individual and not for the organisation, BIFF publicity manager Yun Kim said: "The starting point of this all was the screening of The Truth Shall Not Sink With Sewol. It was because of that [when Lee Yong-kwan refused City Hall's request to ban the film],that they carried out this audit, and it has come to this.
"It was always an issue of oppressing the festival that arose because of the screening, but at some point, it's become as if it's all about Lee Yong-kwan making personal gains. As a member of staff, I find it lamentable. This is not what we were fighting for and he is someone who fought with us."
Packed courtroom
Stars Yoo Ji-tae (Old Boy) and Kim Eui-sung (Train To Busan) were spotted in the standing-room-only courtroom, packed with spectators and press from Seoul and Busan.
A member of this year's BIFF jury for Actor & Actress of the Year and one of the actors in A Quiet Dream – the festival's opening film, Kim was on the Opening Night red carpet earlier this month holding a sign that said: "Independent Film Festival for Busan".
Other industry members chose to boycott the festival altogether, protesting what is seen as a rise in oppression of freedom of expression in South Korea, manifested most recently in the revelation of a government blacklist of artists including top directors and actors.
Busan District Court also sentenced former Asian Film Market head Jay Jeon to six months suspended with one year of probation, and former secretary general Kang Sung-ho to six months suspended with two years probation, both for embezzlement.