UK company to produce two bestselling novels Pomegranate Soup and Genus as first feature projects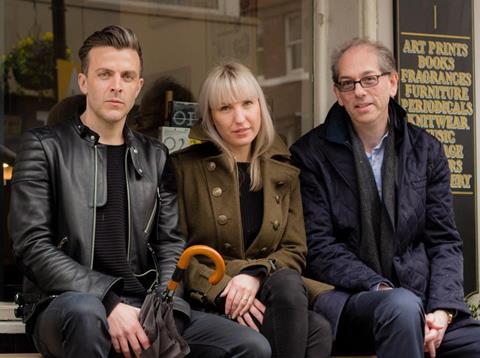 Former Matador Pictures producer Charlotte Walls has launched a new independent film and TV development, finance, production and sales outfit, Catalyst Global Media.
The London-based firm will make high-end, mainstream films and TV series for the global marketplace. Walls, who most recently produced and financed Netflix acquisition Residue, is co-founder of Catalyst and will run the company as its CEO.
Al Hardiman and Gideon Lyons are co-founders and serve as principal partners. Hardiman, a musician who provided arrangements for Notes On A Scandal, will be president of Catalyst's music division.
A statement from the company said it aims to produce "commercially viable projects for the studios, networks, digital platforms and major independent distributors worldwide".
Backed by private equity sources out of London, CGM will develop, finance and produce four to six projects a year across feature films and digital/TV series. Budget ranges will vary depending on the size and scope of the individual projects.
Since 2006, the founders have launched a series of EIS companies engaged in film and TV development as well as international sales, each of which will now be advised by Catalyst.
Walls said: "We are launching Catalyst with a dedicated production finance specialism and as such we will advise a number of EIS companies engaged in the business of international sales for feature films and television as well as funding the development of original film and television projects."
As well as creating and financing original content across the film, TV and music, Catalyst plans to launch into the indie-gaming market within the next 18 months.
Walls added: "At our core we seek to nurture and champion creative talent and find ourselves taking creative risks and pushing boundaries as a matter of course.
"Content, in all forms, is increasing in value around the world. Whether exploiting original stories, developing an epic franchise, or adapting/reimagining classic works, the strategically vetted approach to financing new films and properties is appealing to us.
"We're aligning high quality content with funding and business execution in a way that can maximize the exploitation and commercialization of that content for the content owners, distributors, investors and Catalyst alike."
The company will provide funding, services, expertise, development and commercialization platforms to third parties as well as its own content.
First titles
Bestselling novels Pomegranate Soup and Genus will be the company's first film productions.
Pomegranate Soup is based on the best-selling novel of the same name by the late Iranian novelist Marsha Mehran. The film is being adapted by Oscar-nominated Irish writer Kirsten Sheridan (In America), who is also attached to direct.
The feel-good story centres on three Iranian sisters who through a twist of fate find themselves moving to an Irish village and face the challenge of winning over the locals by opening a Persian-inspired delicatessen and café.
Genus is a sci-fi thriller based on the novel by Jonathan Trigell, writer of BAFTA-winning Boy A.
The film is being adapted for the screen by Mike Carey, best known for graphic novels Lucifer, Hellblazer and X-Men: Legacy.
The story is set in the not-so-distant future where genetic selection and physical perfection are the norm - all the qualities men and women aspire to can be purchased prior to birth - and those financially unable to 'self-improve' are ostracized as an underclass in The Kross. When a series of disturbing murders shake The Kross, the unorthodox Detective Gunt is assigned to the case.
Both films will go into production within the next year.