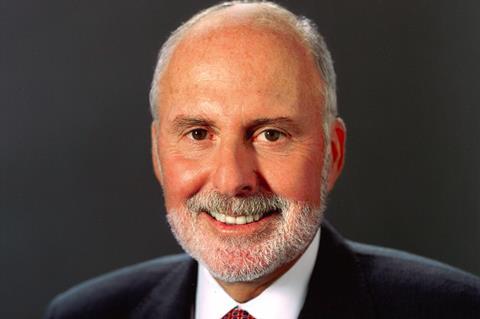 Michael Lynne, the former attorney who served as co-chairman and CEO of New Line Cinema alongside Bob Shaye, found success with The Lord Of The Rings trilogy, and established a pioneering international distribution output network, has died. He was 77.
When Brooklyn-born Lynne bumped into Shaye, an old acquaintance from Columbia Law School, in New York in the 1980s, they discussed ways of working together. Shaye had founded New Line in the late 1960s and retained Lynne as outside counsel. Lynne became president and COO in 1990, rising to co-chairman and co- CEO in 2001.
At the time New Line was owned by Time Warner and Lynne and Shaye struck gold with The Lord Of The Rings franchise, which earned close to $3bn worldwide and garnered multiple Oscars, including best picture for finale The Return Of The King.
The partners established a thriving international output network run by Rolf Mittweg and Camela Galano that became known for its dependability and for delivering quality features to the global marketplace, among them The Lord Of The Rings, Seven, and Sex And The City. Others have attempted to replicate the model and it continues to be held in high regard among the industry.
"He joined me in my earliest fumbling days and helped a lot with the administration, financials, and creative guidance," Shaye told Screendaily. "We were both business guys who loved movies. The international side was a huge element of New Line's financial structure. Michael helped me set it up and structured the banking relationships.
"He was a great person to spend time with. He was genial and smart and gracious and understanding – all the things you want from a partner. It was the halcyon days when he was with the company. His work was invaluable, as were his companionship, his sense of humour, and his criticism. He was a great guy and this is an unbelievable shock for us."
Shaye and Lynne became close personal friends when their daughters attended the same high school. Tragically, Lynne's eldest son Jonathan died recently of a heart attack.
Galano, who began her career at New Line in 1986 and became president of New Line International Releasing in 2001, told Screendaily, "I am devastated. He was incredibly important to me. He was so supportive and such a mentor for me, particularly as a woman – I was one of the few female executives in that space at the time. I owe my entire career to him and Bob Shaye. I thought the world of Michael."
Nigel Green of Entertainment Film Distributors, whose company had the UK output deal with New Line International and distributed a slate that included the Lord Of The Rings trilogy, said: "Michael was a true gentleman in every sense of the word. Throughout our many years of partnership with New Line he was always wise, kind, loyal and supportive. He and Bob made the perfect team and he will be very much missed."
New Line's other successes include the Austin Powers and Rush Hour films, A Nightmare On Elm Street, and critical adulation for Paul Thomas Anderson's second film, Boogie Nights.
In 2008, struggling after the costly misfire that was The Golden Compass, the company was placed under oversight of Warner Bros. Lynne and Shaye left shortly after to form Unique Features.
Lynne served on IMAX's board of directors since July 2013. IMAX CEO Rich Gelfond said, "It is with great sadness that IMAX learned of the passing of Michael Lynne. Michael was much more than a great director of IMAX. He was a great friend to us all, a source of inspiration and generously shared his wisdom and values. We will miss him greatly."
A memorial service is set for Thursday in New York at 11am at Temple Emanu-El, 1 E 65th Street. Lynne is survived by his wife Ninah and daughter Elizabeth.