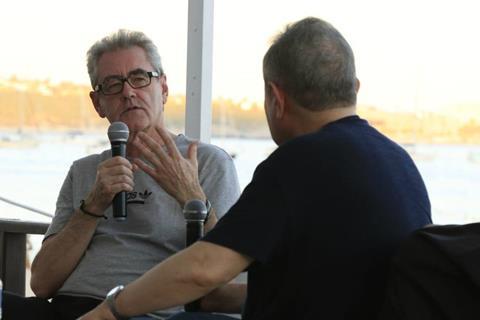 Recently retired Toronto International Film Festival (TIFF) head honcho Piers Handling reflected on the origins of the festival, discussed the impact of 9/11 and SARS, and admitted Green Book's audience award win this year "surprised us all", in a wide-ranging talk at the Los Cabos International Film Festival on Thursday (8).
"That was certainly a huge challenge," Handling said of the September 11 attacks that occurred several days into the festival's 2001 iteration. "There's no training that prepares you for that… We inched our way through the day."
Handling and his staff cancelled press conferences on the day, and elected to resume the festival on September 12 without red carpet galas and parties. He noted that while 9/11 was "a reactive situation" amid horrific circumstances, in a way it was not as potentially disruptive as the deadly SARS (Severe acute respiratory syndrome) outbreak that afflicted Toronto two years.
Turning point in Toronto SARS crisis
In spring 2003, as news reports rolled in about local SARS cases, Handling hit a wall as he did the annual Hollywood round of studios, agents and producers to procure films and A-list talent for his upcoming festival. "Toronto as a city handled it very badly, so people thought there was an epidemic and there wasn't. It looked at one point as if none of the movie stars would come."
The turning point came when Canadian singer-songwriting legend Neil Young agreed to attend TIFF later that year to support the world premiere screening of his film Greendale. "That was the breakthrough," said Handling. "Not everyone came but I would say 90-95% of the people invited came."
Handling, a lifelong cinephile with a passion for foreign-language film, was the subject of a tribute at Los Cabos on Wednesday night (7). He stepped down as TIFF director and CEO on October 1 after 36 years at the festival. He had worked in film institutions before he moved to Toronto and joined the festival as a programmer, immediately packing his bags for a trip to Brazil in 1982 to scout talent and films. He served as artistic director for seven years before assuming the top job in 1994.
Since its launch in 1976, TIFF has grown into a huge, internationally renowned event. "You never have a clear sense of what your festival is going to turn into… The way it grew was a surprise to everyone." He continued, "There needed to be ultimately a very large festival in North America to counter-balance the big European festivals." Los Angeles festivals struggled to take off, while the New York Film Festival wanted to stick to its elite art house ties at the Film Society Of Lincoln Center. That meant the Montreal International Film Festival would remain TIFF's fiercest competition for a while.
"For the first 10-15 years there was a lot of friction," Handling said of the internecine rivalry between the Canadian events. Then Toronto's willingness to embrace global cinema, and the fact that it was considered an acceptably "neutral" global alternative to any US festival with similar aspirations, helped it emerge into the giant event it is today.
'The awards season is now the tail that's wagging the dog'
TIFF dominates Toronto's cultural landscape, Handling told his on-stage interviewer and Mexican film critic Leonardo García Tsao in Los Cabos, adding that the rise of awards season has inevitably created a change. "The growing stress of awards season means festivals are the primary launch pad for awards season and it's become very important for festivals to navigate. Venice has changed its inflection in he last 10 years. Toronto has to. The awards season is now the tail that's wagging the dog."
On that note, he admitted this year's audience award for Green Book came from left-field, and staff had expected a film like A Star Is Born to win what has become a bellwether of Oscar best picture success. "It surprised us all. It was a film that came out of nowhere… We were the only festival that has it and it hasn't been released in North American yet. It will be very interesting to see how it does."
A big challenge facing festivals today is how to maintain a presence outside the event's home city. Handling noted how Tribeca, Sundance and Venice have taken strides to harness digital platforms to accommodate film-lovers who cannot make it to a screening, and said it was incumbent upon others to follow suit. "If people cannot come to your festival physically, how do they do it in a virtual way? My successors [co-heads Cameron Bailey and Joana Vicente] will have to grapple with that in the next 10 years."
'We were being offered so much interesting work and had nowhere to show it'
Handling was a driving force behind the establishment in 2010 of TIFF Bell Lightbox, now the festival's headquarters and site of year-round programming by TIFF on land donated by Canadian filmmaker Ivan Reitman and his family. "We were being offered so many retrospectives and interesting work and [outside the festival] we had nowhere to show it. The festival is only 10 days. You're developing a huge interest from the audience and they have no outlet for it. We were developing very strong relationships with the corporate sector, which had come to sponsor a large part of the festival for them it was only a short 10-day window [of public exposure].
"Festivals are a site of resistance and also an aspirational [hub] as to what cinema can be, and I like the experimental element of cinema. There needs to be organisations that value that and show work that's being squeezed into a corner. The only ones that can keep that alive are festivals and cultural organisations," he said, referencing Cineteca Nacional Mexico in Mexico City.
"It becomes increasingly hard to navigate this landscape and get commercial backing for film," he said in reference to the struggles of independent filmmakers. He acknowledged broader access to more filmmaking tools, and issued a caveat. "Now everybody has the tech. What I don't know is whether that's made for better films."
A military brat who grew up across the world and ran TIFF like clockwork ("You want technically the best festival in the world"), Handling plans to use his new free time to indulge in beloved outdoor pursuits, and is writing a book about the history of film festivals that he expects will take three to five years with the help of a multi-lingual research team.
"It's something I know very well," Handling said of the festival world. "Nobody has pulled it together from the beginning and done it in a global way: how they developed, what they looked like, why they've developed in the way they have, and the impact." External politics will play a part in the story. "What intrigues me is how you survive in an environment."