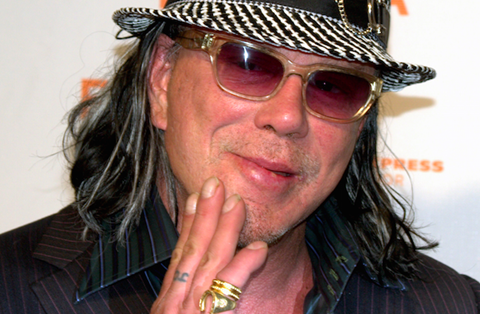 Fortitude International has come on board to handle sales on the Nightmare Cinema horror anthology featuring the work of five genre veterans and the on-screen talents of Mickey Rourke.
Mick Garris (Masters Of Horror), Joe Dante (Gremlins), David Slade (30 Days Of Night), Ryuhei Kitamura (The Midnight Meat Train) and Alejandro Brugues (ABCs Of Death 2) are each contributing a short film to the project.
Mark Canton and Courtney Solomon of Cinelou Films have teamed up with Scott Donley's Good Deed Entertainment on the anthology. Canton and Solomon are producing with Garris through his Nice Guy Productions, and Joe Russo.
The producers said Nightmare Cinema taps into the vein of The Twilight Zone, Amazing Stories, The Outer Limits and Garris' Masters Of Horror, and centres on visitors to a run-down theatre whose deepest fears are revealed on screen by the mysterious Projectionist.
Once the hapless patrons are inside the building and their ticket stubs have been collected, their fate is sealed. Rourke plays the on-screen guide that connects the stories. Garris, Slade, Brugues and Dante were due to attend the Son Of Monsterpallooza event in Burbank last weekend to discuss the film and show early footage.
Fortitude's Nadine de Barros and her team will bring the title to the AFM in November. Donley and Lenny Shapiro are executive producers with The Fyzz Facility's Wayne Marc Godfrey and Robert Jones, and Cinelou Films' Scott Karol.
"I love being able to bring together visionaries of Horror cinema from all around the world with their personal perspectives about what scares you," Garris said. "This is a project I've been working on for some time and I couldn't be more thrilled to partner with Cinelou and Good Deed to share with everyone."
"The anthology format is incredibly exciting to me and has worked really well in the past," Solomon, whose credits through his After Dark Films include American Haunting and Horrorfest: 8 Films to Die For, said. "It allows us to work with not only one brilliant director, but five of them."
"We're excited about Nightmare Cinema," Canton said. "When Mick Garris brought us the opportunity to collaborate with a group like this, it was easy to get behind. Horror has become an industry strength again. When you look around at recent successes of films like It or Get Out, it's obvious there's a hungry audience out there that can't be ignored."
"This film is making it possible for fans to experience the unbridled work of five legendary horror directors all in one sitting," Donley added.
Cinelou Films has produced Cake, Mr. Church, and The Comedian, among others. Good Deed Entertainment will distribute the animation Loving Vincent in the US.