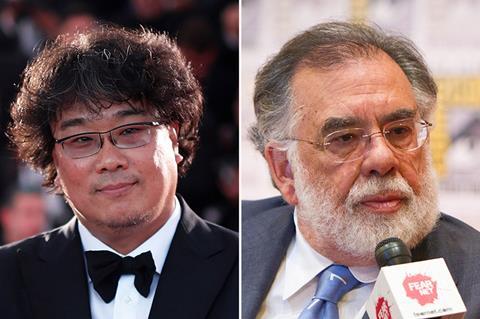 France's Institut Lumière will honour multi-Oscar winning director Francis Ford Coppola with its prestigious Lumière Award at the 11th edition of its classic cinema festival, running Oct 12-20 this year.
Past recipients include Jane Fonda, Wong Kar-wai, Catherine Deneuve, Martin Scorsese, Pedro Almodovar, Quentin Tarantino, Ken Loach, Gérard Depardieu, Milos Forman and Clint Eastwood.
Thierry Frémaux, who heads up the Lyon-based Institut Lumière alongside his delegate general duties at the Cannes Film Festival, unveiled the choice of Coppola at a press conference on Tuesday (June 11).
Other festival highlights will include the presence of Korean director Bong Joon Ho, winner of this year's Cannes Palme d'Or for Parasite, as a guest of honour. Ken Loach will also be in attendance to give a masterclass.
There will also be tributes to French actor Daniel Auteuil, notably with a screening of Nicolas Bedos's Cannes title La Belle Epoque. Auteuil stars as a man given a chance to relive his past to save his marriage.
French actress Marina Vlady, whose credits include the house wife-prostitute protagonist in Jean-Luc Godard's 1967 comedy-drama Two Or Three Things I Know About Her, will also be honoured.
The programme will also include screenings of restored copies of Charles Vanel's 1929 drama Dans La Nuit, which is considered one of the last silent films made in France, and Georges A. Romero's 1968 classic Night Of The Living Dead.
The line-up also features a sidebar entitled "Forbidden Hollywood", devoted to Hollywood pictures shot between 1930 to 1934, before the introduction of The Hays Code, regulating the moral content of feature films.
There will also be a retrospective devoted to late French screenwriter and director André Cayatte, whose credits include the political thriller Where There's Smoke (Il n'y a pas de fumée sans feu), which premiered in Berlin in 1973, and To Each His Hell (A Chacun Son Enfer), both of which starred his long-time collaborator Annie Giradot.