Daniel Auteuil plays a man who is given the opportunity to relive his past in order to save his marriage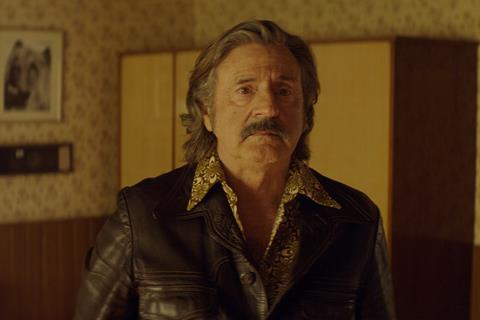 Dir: Nicolas Bedos. France. 2019. 113mins
The only way to fix the present it to revisit a cherished moment from the past in La Belle Epoque. The second feature from Nicolas Bedos is a sweet, inventive Richard Curtis-style romantic-comedy crowdpleaser that deftly balances hearty laughs and heartwarming emotion. The stellar ensemble cast should allow it to exceed the commercial success of his debut feature Mr + Madame Edelman (2017), and there could be Cesar consideration for some of the winning performances.
Handsomely crafted, La Belle Epoque cleverly works through the complications of blurring fact and fantasy
How to make love and marriage last is becoming a common theme with Bedos. In La Belle Epoque, cartoonist Victor (Daniel Auteuil) and psychoanalyst Marianne (Fanny Ardant) have been together for more than forty years. He has grown a little too comfortable with his old fogey status. He sports a snowy, Santa Claus beard, dresses badly and has a well developed dislike for newfangled technology. Marianne still has a lust for life and a very low boredom threshold. In bed, he reads a book and she loses herself in a thrilling VR experience.Comic capital is forged from their opposing views of the modern world.
An eternally exasperated Marianne eventually throws Victor to the street and considers it a long overdue act of liberation. That is the moment that Victor accepts an offer to enjoy a free experience with Time Travellers, a company run by his son's best friend Antoine (Guillaume Canet). In a variation on Westworld, the company use movie sets and actors to construct elaborate fictions for wealthy clients. You can live in Nazi-era Germany, dine with Marie Antoinette or get completely sozzled at an Ernest Hemingway evening. Victor chooses to spend his time in the Lyon of 1974, at the hotel bar where he first met Marianne.
One of the joys of La Belle Epoque is the central performance from Daniel Auteuil and the way he expresses Victor's delight in having entered his past. The beard goes, the wardrobe improves and the twinkle returns to his eyes. In the hotel and bar of his youth, everybody smokes, people chat rather than stare into mobile phones and racist insults are tossed around with impunity. The good old days have a bracing effect on Victor, especially as he starts to fall under the spell of Margot (Dora Tillier), who has been cast as the young Marianne.
Handsomely crafted, La Belle Epoque cleverly works through the complications of blurring fact and fantasy. Just as in The Truman Show, Antoine pulls the strings from behind the scenes but Margot is his girlfriend and he cannot escape feeling jealous. As Victor is rekindling the feelings and spirit he once had, could he also be falling back in love with the woman who rejected him?
Set to a soundtrack of pop hits from the likes of Dionne Warwick and The Monkees,the film sometimes goes for the easy laughs but the skilled ensemble cast ensure that the emotions are always true and touching. Pierre Arditi is a wonderfully warm presence as a fellow visitor to the 1970s Lyon hotel and the charming, heartfelt star performance from Daniel Auteuil is one of those periodic reminders of why he has been such a reliable and admired force in French cinema for over 40 years. Any potential English-language remake might be an enticing plum for any 60-something star.
Production company: Les Films Du Kiosque
International sales: Pathe Films sales@pathe.com
Producers: Francois Kraus, Denis Pineau-Valencienne
Screenplay: Remi Daru
Cinematography: Nicolas Bolduc
Editing: Anny Danche, Florent Vassault
Production design: Stephane Rozenbaum
Music: Nicolas Bedos, Anne-Sophie Versnaeyen
Main cast: Daniel Auteuil, Guillaume Canet, Dora Tillier, Fanny Ardant, Pierre Arditi