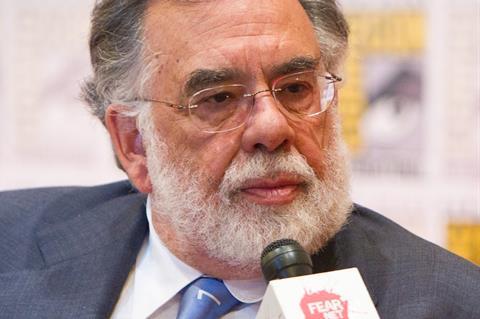 Francis Ford Coppola called Marvel Cinematic Universe films "despicable" at the Lumiere Film Festival in Lyon, where he received the Prix Lumiere.
The Godfather director spoke out in support of Martin Scorsese's comments that Marvel films are not "true cinema." He was flanked by Cannes chief Thierry Frémaux and acclaimed director Bertrand Tavernier.
Scorsese argued that Marvel films are like "theme park rides" when delivering the Bafta David Lean Lecture. In response to a question posed by Screen, Coppola acknowledged the technical craft behind these films, but backed up Scorsese's comments.
"If you asked him if there is cinematic talent, cinematic expression or great work in Marvel films, he would say 'Yes'," argued Coppola. "But to his point that Marvel Films are more like theme park rides than what we call cinema, then yes, I agree with him. Marvel are eating up all the oxygen [of cinema]."
Coppola expanded: "When Marty Scorsese says Marvel films is not cinema, he's right because we expect to learn something from the cinema. We expect to get some enlightenment, some inspiration. I don't know if anyone gets anything from seeing the same movie over and over again."
He then called on the risk-averse American studios to take more chances. "Making a film without risk is like making a baby without sex. Part of it is the risk, and that is why we learn so much from films. If they make movies without risk, it's just economics."
"Real cinema brings something to society," he added. "It doesn't just take the money and make people rich. That's despicable! So, Martin was kind when he said it's not cinema. He didn't say it is despicable which I just said it is."
Future projects
Coppola also gave an update on his long-gestating project Megalopolis, a film about an architect's attempt to create a utopia, and the resistance against his plans. He has now revealed that the film will be a love story.
"It's the conflict between a man who has a vision of the future pitted against a man who believes in the traditions of the past," says Coppola. "It's a love story because the daughter of one man is in love with the son of the other. I've always wanted to make a love story on the scale of Abelard and Heloise, I never have, and I would like to before I go."
Coppola shot B-roll footage of the movie in 2001 but halted shooting after the World Trade Centre attacks. "How could I make a film about utopia in the face of Islamic terrorism," he said.
He has also been continuously re-writing the script over the past two decades but still doesn't consider it ready to shoot.
Coppola explained that he has one more hurdle to overcome. "My problem is that for the film to work, we need to find a solution for the future of humanity, not just for the film."
He wants the film to create a future world that humans of today would want to live in. "I would say it's my most ambitious film since Apocalypse Now,' he added.
The film that would require the largest budget of his career to date. "To make this level of film, I will have to compete with a Marvel film. They seem to have the budget and resources to do a film on this scope and ambition of Megalopolis."