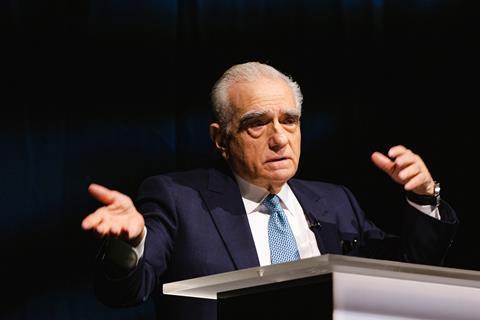 Martin Scorsese has criticised an "invasion" of "theme park films" at cinemas, in advance of the international premiere of his latest film, Netflix's awards contender The Irishman.
Scorsese made his comments during a Q&A following his Bafta David Lean lecture at the Royal Opera House in London on Saturday (October 12).
"Where do people go to get films financed now? They're not bankrolled by a Hollywood studio or the big studios here," he said. "And then, when you get it made, where are they going to be shown, when the theatres are all taken over by the 'theme park' films?"
"That's all fine and good, but don't invade everything else. Knowing some of what goes into them now, I admire what they do. It's not my kind of thing. It simply is not. And it's creating another kind of audience that thinks cinema is that. You have a child and the child wants to see that picture. The fans that see those pictures now, they were raised on pictures like that."
"There's only one Spielberg; there's only one Lucas; James Cameron. It's a different thing now, with that kind of invasion of the theatre."
In a previous interview with Empire, the director said he felt superhero films were "not cinema".
"Seeing a movie in a theatre is the best, with an audience"
As part of one lengthy and wide-ranging answer, Scorsese also gave his opinions on how streaming services have changed the essence of cinema. The Irishman is Scorsese's first fiction feature since 2016's Silence, and his first made with the backing of a streaming service.
The director said, "We're in a moment not only of evolution but of revolution. It's almost as if the 21st century is beginning now. Technology has grown with it – that also means cinema grows with it. Because of the technology, we have to think in terms of – we don't lock ourselves into one cinema.
"Seeing a movie in a theatre is the best, with an audience – that's the way to see it. But the actual concept of cinema has become something which is not definable. Something could play as a hologram, something could play as virtual reality. There's going to be an extraordinary epic in virtual reality at some point. We have to start expanding what we think of as narrative."
Scorsese provided insight into how the relationship with Netflix came together after he had tried to get it made through the studio system first.
"Money was needed for shooting days, but also for the cost of the CGI. And no Hollywood studio would do this picture. They don't make it. Some were interested in it. They were interested in me, Leo [frequent collaborator DiCaprio, who does not star in The Irishman]… But Bob [Robert De Niro], telling a story about some older gangsters from the 50s and 60s, they're not interested. A couple of guys did try, but it didn't work out.
"And Netflix said they would do it. I talked to the executive producer, who said: 'It mainly is streaming.' I said, 'But it will be shown in theatres?' He said, 'Yes.' Well, that's the trade-off. The trade-off is no interference. Full budget. And a schedule that allowed for the CGI, and the rhythm of the shoot attuned to our age group. They just don't push us."
De-ageing technology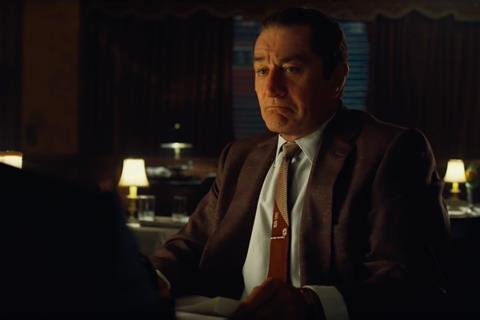 Scorsese also addressed the use of de-ageing technology in The Irishman, created by US effects studio Industrial Light & Magic, to portray the key actors across many years.
"I wanted to make a picture with De Niro, and Al [Pacino], and Joe [Pesci] – I didn't want to work with actors pretending to be them, but younger."
Scorsese said he was "very suspect" of the idea of using CGI at first, noting "The people in this film, they're not going to act with tennis balls. It won't even last half a second. They have to play off each other." It was the intervention of Pablo Helman – VFX supervisor on The Irishman and Silence – which showed the filmmaker a way to utilise effects for his latest film.
"He came back with the possibility of almost imperceptible markers on their faces. The power they [the VFX artists] wield is done off in the corner. And so I said we can control it."
The director used the lecture to discuss his career of more than 50 years, telling anecdotes and showing clips from films including Mean Streets, The Last Waltz, Raging Bull, and Silence.
The Irishman receives its international premiere as the closing night gala of BFI London Film Festival on Sunday (October 13), which will be simultaneously streamed in select cinemas around the UK. It will get a limited theatrical release, starting from November 1 in the US and November 8 in the UK, before launching worldwide on Netflix from November 27.