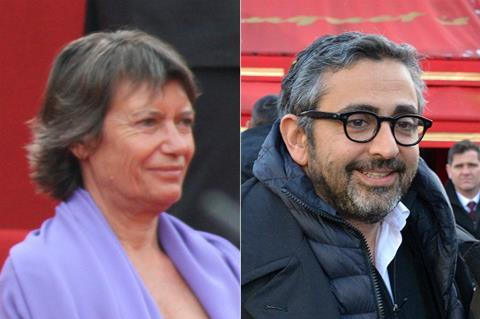 Véronique Cayla and Eric Toledano have been voted president and vice president of France's Academy of Cinema Arts and Techniques for a two-year term, in the body's first democratic, gender-equal election of its governing board.
The French film industry is hoping their election will mark the end of a torrid period for the troubled body which went into meltdown earlier this year amid growing criticisms over its lack of transparency, gender equality and inclusion.
Cayla has wide experience of France's film and TV world thanks to her roles as a former head of the country's National Cinema Centre (CNC) and Franco-German broadcaster Arte as well as general manager of the Cannes Film Festival, working alongside current delegate general Thierry Frémaux from 2001 to 2005.
Toledano is well-known at home and internationally for his string of hit films with long-time collaborator Olivier Nakache, which include The Intouchables, C'est La Vie and The Specials.
The election of Cayla in the role of Cesar president, in particular, was welcomed by the wider film industry. Her experience and reputation as a fair and able manager are seen as perfect attributes for the job of setting the academy on the right track.
In her acceptance letter, she promised a new era of transparency, democracy and gender equality for the body but insisted it would only come about with the full involvement of its some 4,300 members.
"Thank you for the confidence you have placed in Eric and me to pilot this wonderful institution, with you, and I insist on the fact that it will be with you… With you we can invent a new model of the César," she wrote.
The new Academy co-chiefs, as well as 42 representatives for its 21 professional chapters, were elected by 180 of the 182 members of the body's new general assembly, which currently consists of 164 members voted in by the academy's 4,300 members and 18 unelected historic members.
Under the new electoral process aimed at enforcing gender equality, academy members who wished to put themselves forward as a candidate to represent their profession in one of the 21 chapters had to present themselves as part of a double candidature, featuring a male and female professional.
Winning candidates on the artistic side included Marine Foïs and Antoine Reinartz for the acting chapter as well as Pascale Ferran and Cédric Klapisch for the directing chapter.
On the industry side, Alain Attal at Trésor Films and Marie-Ange Luciani at Les Films du Pierre will represent the producer chapter. Unifrance chief Daniela Elstner and Alexandre Mallet-Guy at Memento Distribution were voted in for the chapter representing international sales and distribution.