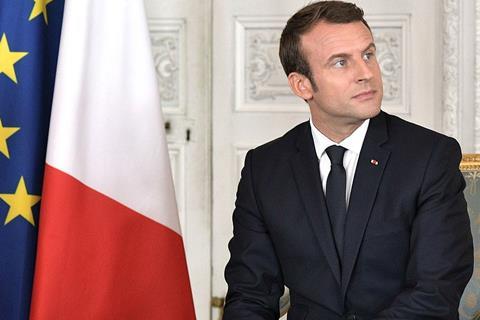 French president Emmanuel Macron has said cultural places could start reopening from mid-May, despite the need to impose a new round of nationwide restrictions to combat a third wave of Covid-19 in the country.
"From mid-May, we will start to open with strict rules, certain cultural places, we will authorise the opening of terraces, under certain conditions," Macron said in a televised address to announce the new lockdown measures on Wednesday (March 31)
The longer-term goal was "to build, between mid-May and the beginning of the summer, a calendar for a progressive reopening for culture, sport, leisure, events and our cafes and restaurants."
Macron did not elucidate on which cultural places were included in these initial reopening plans.
In recent weeks, French exhibitors and distributors have been lobbying for a reopening in early May, but as Covid-19 cases rose this was looking increasingly unlikely and there were rumours last week that June 1 was on the cards.
French cinemas closed for a second time at the end of October due to a second Covid-19 wave with the promise of a potential December 15 reopening, which was ditched after the number of cases of the virus did not fall enough.
The entire cultural sector has been lobbying hard for some clarity on reopening plans in recent weeks but the government has refused to be drawn on an exact date, citing the uncertain health situation.
Instead, it unveiled a three-stage reopening for cinema, staggering an increase in permitted audience capacities at 35%, 65% and then 100% over the course of six weeks to two months, but without a start date. It set similar plans for the hospitality and retail sectors.
The new restrictions put further pressure on the Cannes Film Festival's July 6 to 17 dates. A handful of journalists posted on the social networks on Thursday (April 1) that they had received their accreditation approvals, with one or two asking jokingly if was an April Fools' joke. A spokesperson for the festival said the event was committed to taking place in some shape or form in July and was continuing to press on with the organisation of its 74th edition.
Opening up
The fresh restrictions, which come into force this weekend, follow a surge in Covid-19 cases across France in recent weeks, with the country registering 59,000 new cases and 303 deaths on Wednesday. The surge has been put down to the spread of the more virulent and deadly "UK variant", so-called because it was first identified in the southern UK county of Kent in September 2020, and the slow roll-out of a vaccination campaign.
Under the new measures, schools move online from Friday 2 while Easter holidays which are usually staggered across the country over the course of three to four weeks will be concentrated in a two-week period from April 12. Nursery and primary school children will return to class on April 26, while older students will return physically on May 3.
Other measures include a nationwide 7pm curfew, a 10-kilometre travel limit from April 6 and orders to work from home where possible. The consumption of alcohol has also been banned in public spaces. The government has ditched its requirement that people download a special authorisation before leaving their homes for short outings, however, with prime minister Jean Castex saying the population needed to take personal responsibility for its actions.
Macron said the only way out of the current health crisis was to ramp up the nationwide vaccination campaign. He noted that 8.2 million people had received their first dose while 2.8 million had received both doses to date. This compares with 30 million for the first dose and four million for both doses in the UK. Macron said a taskforce of 250,000 people had now been immobilised to speed up the rollout of the vaccination in the coming months.
Setting out a timetable, he said all people over 60-years-old would be invited for vaccination from April 16. The campaign would then be extended to people over 50-years-old from May 15. The aim was for every member of the population over the age of 18-years-old, who wish to be vaccinated, to have received their doses by the end of the summer, he said.