New CNC figures confirm 2014 was a tough year for the French film production sector.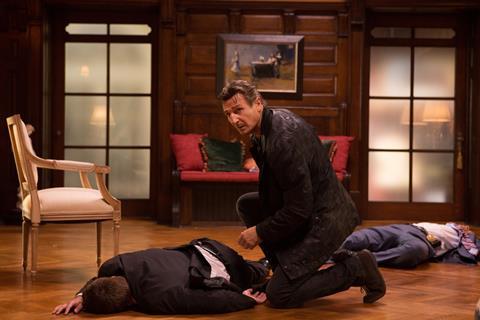 Investment in French film production fell by 20% in 2104 to hit a 13-year low, according to new figures released by France's National Cinema Centre (CNC).
According to the CNC's annual production report released on Tuesday (Mar 24), the body approved 258 films in 2014, 12 less than 2013.
Within this figure, 203 were films-of French-initiative and 55 were majority foreign co-productions.
Nearly all French productions need to seek CNC approval in order to tap into selective and automatic funding supports so the resulting data is a good indication of what is going on in France's film production sector.
The new figures revealed that investment in "films-of French-initiative" dropped by 21.7% to €799m ($876m), against €1.02bn ($1.2bn) in 2013.
Overall investment, including co-productions, fell by 20.2% to €994m ($1bn), against €1.2bn ($1.3bn) in 2013.
Breaking these the latest figures down, the CNC said French investment fell by 19.2% to €753.2m ($825m).
Foreign investment, meanwhile, had nearly halved, dropping 47.5% to €45.9m ($50m), against €88m ($96m) in 2013. Foreign finance accounted for 5.7% of investment in films-of-French-initiative, against 8.6% in 2013.
"It's the lowest level in 13 years. This drop can be explained by the strong withdrawal in foreign investment in French films (-47.6%) and lower contributions from mandates," read the CNC report.
By "mandates", the CNC was referring to funds generated by theatrical revenue, ancillaries and foreign sales. The body said that mandate-generated funding had fallen by 45% in 2014, its lowest level in a decade.
Another factor hitting the French production sector was a drop in pre-buys by pay-TV giant Canal+, which by French law must spend 12.5% of its budget in the acquisition of cinematic works of European origin traditionally.
The CNC figures revealed that the broadcaster invested in 103 films in 2014 to the tune of €135m ($148m), a 15% drop on 2013 and its lowest investment in a decade. In the period running 2005-2014, the broadcaster spent €162m ($178m) on pre-buys a year.
A total of 92 films out of the 103 pre-buys were French films. The CNC noted that it was also the first time in a decade that Canal+ had invested in less than 40% of all French film production.
State funding rose slightly; backing by mainstream free-to-air channels remained stable and investment by new digital terrestrial channels rose 32.9%. The latter increase was from a low base so the overall investment amounted to just €5.3m ($7.9m)
Interestingly the number of films made without broadcaster support rose to 115 films, some 16 more than 2013. The CNC noted that most of these films had a budget of less than €2m ($2.9m).
Film budgets
The study revealed that the average budget had fallen by 19.3% to €3.94m ($4.3m) and that the median budget had fallen by 12.4% to €2.8m ($3m).
There was a drop in films budgeted above €7m ($7.6m) and a rise in films costing less than €4m ($4.3m).
There were just three French initiative films budgeted at more than €15m ($16.4m) against 12 in 2013: Olivier Megaton's global hit Taken 3 (€51m/$54m), Arthur Benzaquen's The New Adventures of Aladdin (€15,4m/$16.8m), which is slated for an October 2015 release, and Christian Carion's ambitious, upcoming World War Two drama Darling Buds of May (€15m/$16.4m)
Co-production figures
The study also revealed that co-productions were also under pressure. There were 106 co-productions involving 34 different countries in 2014, ten less than 2013.
There were 51 majority French works, four less than 2013, and 55 minority French productions, down by six on the previous year.
"Co-productions accounted for 41.1% of the approved films, against 43% in 2013," read the CNC report.
In total, €394m ($434m) was invested in international co-productions involving a French partner, a 28.6% drop on 2013, and the lowest amount since 2001.
French investments in co-productions fell by 29.5% to €198.5m ($217m), against the 2013, while foreign investments in co-productions involving a French partner fell by 27.6% to €169.69m ($186m), the lowest level since 2002.
Top co-productions involving a minority French partner included Eric Warin's La Véritable histoire des petits rats de l'Opéra, produced out of Canada, Nick Powell's Canadian-Chinese-French co-produced Outcast, Italian Paolo Sorrentino's The Early Years and two collaborations with neighbouring Belgium, Joachim Lafosse's White Knights (Les Chevaliers Blancs), Wim Wenders' Everything Will be Fine and Jaco Van Dormael's The Brand New Testament.
"The number of co-productions with a majority foreign partner fell by 9.8% to 55 films in 2014. This evolution illustrates the difficulties of French partners to mobilise finance in an economic context which remains difficult," said the CNC
In the backdrop, Belgium remained France's main coproduction partner, although cooperation dipped slightly in 2013. The countries worked on 36 productions altogether, 26 of them majority projects for France.
Franco-German cooperation also dipped in 2014 while the number of co-productions with Italy and Switzerland rose.