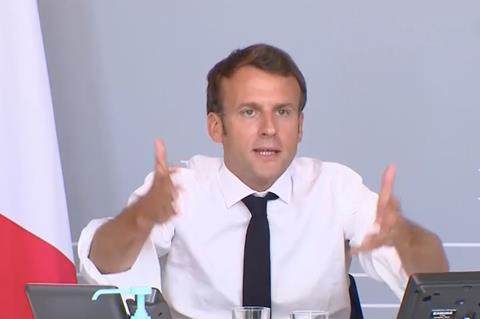 French president Emmanuel Macron has announced the creation of a temporary compensation fund aimed at TV and cinema shoots which were delayed or cut short due to the Covid-19 pandemic and resulting French national lockdown which began on March 17.
Macron revealed the initiative in a wide-ranging televised address on Wednesday (May 6), detailing what his government is doing to support France's cultural sector.
He said the initiative was being developed by France's ministry of culture and the National Cinema Centre (CNC).
Alongside central state funds, Macron said it would also be financed by regional funds as well as private sector partners such as insurance companies, banks and Sofica tax shelter schemes.
"We are going to get them involved and make them take on their responsibilities too," Macron said of the insurance companies, banks and Soficas. "They have to join us to help us put this compensation fund in place."
He said it would be aimed at compensating shoots which had been cancelled or postponed, on a case by case basis.
The president added, however, that it would not be possible for big shoots to start up again at least until the end of May.
"Rules around social distancing and numbers will make it difficult to start shoots again in a concrete manner, aside from a handful of exceptions, before the end of May. After, when we can see a bit clearer, we can adapt but it will be on a case by case basis," he said.
Macron's address followed a morning-long meeting with around a dozen representatives of France's culture sector and comes amid growing disquiet from its professionals over their future.
The sector has been hit hard by the lockdown, which forced the closure of cinemas, theatres, and museums as well as the cancellation of numerous big cultural events, including the Cannes Film Festival in May and performing arts-focused Festival d'Avignon, which usually takes place in July.
The country's lockdown is due to start easing on May 11 but alongside the uncertainty around shoots there is still no indication on when cinemas and other cultural and entertainment venues will be able to start opening up again.
Under the plan to ease the lockdown, announced by French prime minister Edouard Philippe last week, the question of when to re-open cinemas will be examined in early June. The only public, cultural spaces due to open their doors on May 11 are local libraries, mediatheques and small museums.
In other initiatives for the culture sector, Macron said emergency income support measures for cultural sector professionals on temporary contracts and unable to work due to the lockdown, would remain in place until August 2021.
People working in France's cultural, media and communications sector are usually well-provided for during periods of unemployment thanks to the country's compulsory Audiens mutual welfare fund.
These income support benefits are dependent, however, on professionals having worked and contributed for a minimum of 507 hours over a period of less than 12 months. Many professionals will no longer hit 507-hour quota due to the lockdown.
Macron revealed that the government was also planning a massive state-funded programme of cultural initiatives over the summer involving young performers and creators under the age of 30 aimed at connecting less privileged parts of French society with culture. He said this programme could replace some of the work lost due to the lockdown.
Turning his attention to the situation beyond French borders, Macron warned against inward or nationalistic thinking at this time saying that France should continue to support European culture and creativity.
"We need to invest even more energy at a European level to support European creation. We need to encourage, intensify and re-launch all our European co-productions," he said.
As part of this move, Macron said his government would be speeding up its plans to implement the European Union's new Audiovisual Media Services Directive, AVMS Directive, which was ratified at the end of 2018. He said he was committed to getting it transposed into French law in time for a January 1, 2021 start and urged other EU territories to follow suit.
Under the directive, audiovisual operators targeting European audiences – whether they are a traditional broadcaster or a global player – will be subject to the audiovisual rules of the countries where they are available and generating income, regardless of where they are based. It also demands that at least 30% of content distributed into Europe by audiovisual operators is made in Europe.
Talks with local audiovisual players and global platforms operating in France over how the directive will be implemented in France were just beginning as the pandemic hit and shut down the usual business of government.
In a related measure, Macron said the government was also studying measures to prevent catalogues of French films being sold to non-European buyers.