Former army documentary cameraman worked on Jean-Luc Godard's Breathless [pictured].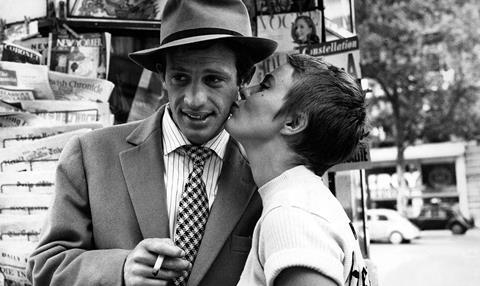 Legendary French cinematographer Raoul Coutard who worked with Jean-Luc Godard, François Truffaut, Pierre Schoendorffer, Jacques Demy and Costa-Gavras has died aged 92.
Coutard worked on more than 80 features in a career spanning from 1958 to 2001 but is best known for his work with New Wave pioneers Godard and Truffaut.
He got his big break working with Jean-Luc Godard on 1960 classic Breathless, which was credited with reinventing cinema at the time for its stripped-down, fast-paced aesthetic.
Godard — who wanted to shoot the film as much as possible with a handheld camera and natural lighting — had partly hired Coutard for his background as a documentary cameraman for the French army.
Coutard spent five years working with the army's press service, mainly in French Indochina (today Vietnam, Laos and Cambodia) in the late 1940s and early 50s.
Prior to that, he worked in a Paris photography lab, having dropped out of a chemistry degree because he did not have the means to pay for his studies.
On leaving the army, he worked as a freelance reporter and photographer for a time for publications including Life and Paris Match.
Breathless marked the beginning of a 15-year collaboration with Godard during which Coutard also lensed the filmmaker's Shoot The Piano Player, A Woman Is A Woman, My Life To Live, Le Petit Soldat, Les Carabiniers, Le Mépris, Une Femme Mariée, Pierrot Le Fou, Alphaville, Le Chinoise, Godard's Passion and First Name Carmen.
Coutard also worked with Pierre Schoendorffer, Jacques Demy and Costa-Gavras among others.
He was renowned for his ability to work on improvised sets and fast-changing shoots.
Strangely, he was feted with relatively few awards for individual film credits during his career but picked up Cannes Technical Grand Prize for Godard's Passion in 1983 and a César for Schoendorffer's naval drama Le Crabe-Tambour in 1978.
He was also nominated for a Bafta in 1967 for work on Tony Richardson's The Sailor From Gibraltar, starring Jeanne Moreau and Vanessa Redgrave and the American Society of Cinematographers presented him with its International Award in 1997.