The horror strand has 10 UK premieres this year.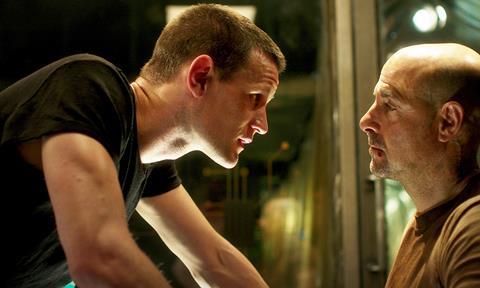 Horror Channel FrightFest has announced a record-breaking 14 films for its 12th stint at the Glasgow Film Festival (February 23-25).
The 2017 line-up kicks off with a special screening of Gore Verbinski's A Cure For Wellness, starring Dane DeHaan, Mia Goth and Jason Isaacs.
There are also UK premieres of Patient Zero (see above), with Matt Smith, Stanley Tucci and Natalie Dormer, and $50 million fantasy epic The Warrior's Gate, starring Dave Bautista and Mark Chao.
Playing on Friday is Colin Minihan's zombie film It Stains The Sands Red (see below), starring Brittany Allen who will also be in attendance.
Michael O'Shea's The Transfiguration - which played at Cannes 2016 – will also screen on Friday. O'Shea will discuss the film at the event.
Other UK premieres include Shin Godzilla, Roberto San Sebastián's The Night Of The Virgin, Gerald Rascionato's Cave Dive and Simon Rumley's Fashionista.
There will also be an exclusive unveiling of a new 4K restoration of Phantasm.
The screenings will once again take place at the Glasgow Film Theatre.
Alan Jones, co-director, said today: "What a privilege for Horror Channel FrightFest to return to the open arms of the Glasgow Film Festival. Each of our forensically assembled line-up has been chosen on the basis it has something new and unique to offer, something we feel worth championing to our discerning Scottish audiences."
The Glasgow Film Festival runs 15-26 February. The full line-up hasn't been announced yet, but Andrew Scott and David Tennant films bookend the festival.