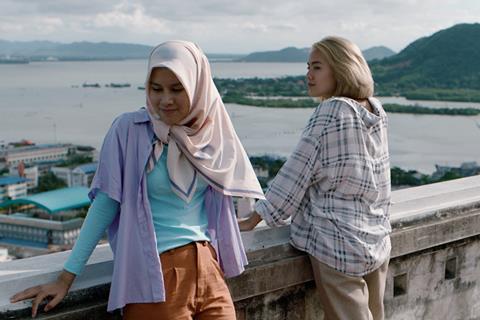 Full Circle Lab Philippines, the Southeast Asian project and talent development programme, has revealed the line-up for its upcoming fifth edition, including new features by Filipino filmmaker Martika Ramirez Escobar and Myanmar's Maung Sun.
The labs will comprise 12 projects in development, three films in post-production, eight emerging producers and three story editors. A total of 45 participants and 14 mentors are set to participate in the in-person workshop, held in the Central Luzon region in the north of Manila from March 27-31, This will be followed by online sessions, which run until September.
The programme aims to nurture and develop Filipino and South-East Asia projects for global potential and to position the Philippines as a film creative hub.
Scroll down for full list of projects and participants
Notable names among the lineup include Filipino writer/director Escobar, whose imaginative comedy-drama debut Leonor Will Never Die won a special jury prize at Sundance in 2022. Having gone through the lab with her debut in 2021, she will return with her second feature Daughters of the Sea, again produced by Monster Jimenez.
Also selected is Future Laobans from Myanmar director Sun, which won the top award at Busan's Asian Project Market last October. The project is produced by filmmaker Ma Aeint, who is a political prisoner in Myanmar and has served nearly two years of a three-year sentence. Filipino producer Emmanuel Angeles has now joined the team.
Alongside these more established figures are several debut projects from emerging filmmakers including Daughter of the Mountain God by Vietnam's Pham Hoang Minh Thy, who had a short in Venice, co-produced by Jeremy Chua (Singapore).
Established directors John Torres of the Philippines and Woo Ming Jin (Stone Turtle) of Malaysia will respectively produce Eve Baswel's second feature Heaven Help Us! and Nadira Ilana's debut Wilderness.
The programme is led by Tatino Films' Matthieu Darras and Izabela Igel alongside Allyza Marie Del Pilar of the Film Development Council of the Philippines (FDCP).
Darras said: "The last 12 months have been exceptional with so many Full Circle Lab PH projects coming to fruition," highlighting Sundance award-winner Leonor Will Never Die; the first Malaysian film to compete at Locarno, Stone Turtle; the first Vietnamese film to compete in Tokyo, Glorious Ashes; and the first Filipino drama series to be screened at TV industry event Mipcom, Cattleya Killer.
Further titles to have come through the labs include the first Singaporean-Korean co-production, Ajoomma, and Makbul Mubarak's multi award-winning Indonesian feature Autobiography
"We continue to promote regional collaboration, while welcoming expertise from Europe, Africa and Latin America," he added.
Full Circle Lab Philippines 2023
FICTION LAB
Book Of Women (Indo) debut
Dir. Melarissa Sjarief, script Widya Arifianti, prod. Farishad Latjuba
Daughter Of The Mountain God (Viet-Sing) - debut
Dir. Pham Hoang Minh Thy, prods. Mai Hoai Nguyen Tuan Anh, Jeremy Chua
Daughters Of The Sea (Phil)
Dir. Martika Ramirez Escobar, prod. Monster Jimenez, Rajiv Idnani
Future Laobans (Myanmar/ Phil)
Dir. Maung Sun, prods. Ma Aeint, Emmanuel Angeles
Girl On The Turtle's Back (Phil)
Dir. Paul Sta. Ana, prods. Alemberg Ang, Brylle Tabora
Heaven Help Us! (Phil)
Dir. Eve Baswel, prods. John Torres, Jules Katanyag
House Of Kalachuchi (Phil)
dir. Theodore Boborol, script Margarette Garcia, prod. Tanya Winona Bautista-Navarro
Love In The Ungodly Hour (Phil) - debut (series)
Dir. Bradley Jason Pantajo, prod. Carlo Catu
Please Bear With Me (Phil) – debut
Dir. Gabriela Serrano, prod. Gale Osorio
Rooftop Lempicka (Viet) – debut
Dir. Hang Luong Nguyen, prods. Nhi Bui, Nguyen Mai Ka
(Un)Holy (Indo) – debut
Dir. M. Reza Fahriyansyah, script Sofia Lo, prod. Amerta Kusuma
Veloforce (Malay) – debut
Dir. Kok Wei Liam, script. Tan Yan Seng, prod. Lee Choi Kin
FIRST CUT LAB
Solids By The Seashore (Thai) – debut
Dir. Patiparn Boontarig, prods. Mai Meksawan, Chatchai Chaiyon, editor Nisarat Meechok
Subscribe (Phil) – debut
Dir. Joan Jelica Lopez-Flores, prod. Fleur Hombre, editor Beng Bandong
Wilderness (Malay) – debut
Dir. Nadira Ilana, prod. Woo Ming Jin, editor Sharon Chong
STORY EDITORS LAB
Nathaniel Arciaga (Phil)
Cenon Obispo Palomares (Phil)
Trishtan Perez (Philippi Phil nes)
CREATIVE PRODUCERS LAB
Alex Poblete, Los Otros (Phil)
Annisa Adjam, Sinema 5 (Indo)
Eliza Cheisa, Dhiwangkara Seta (Indo)
Kumanavannan Rajendran, Fourth Frame Studios (Malay)
Cris Dumlao, Kampilan & Animation Vertigo Asia (Phil)
Mica Oliveros, Create Cinema Inc (Phil)
Sam Chua, Potocol (Sing)
Tin Velasco, Southern Lantern Studios (Phil)