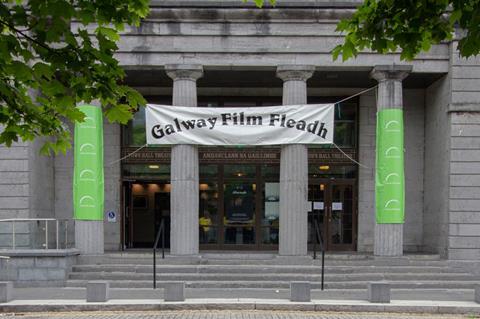 The Galway Film Fleadh (GFF) is to move online this summer, following the Irish government's announcement that cinemas will remain closed until August 10 due to the Covid-19 pandemic.
The 32nd edition of the festival, scheduled to run July 7-12, will stream features, shorts and live events online.
The number of titles in the programme will be reduced to around 36 features (last year's GFF screened 84 local and international features) but will continue to mix narrative, documentaries, animation, shorts and interactive cinema events.
The festival has confirmed that the winners of its best live-action and animated shorts awards will make it onto the long list for Oscar consideration, as in previous years.
The topical theme of this year's festival is 'Coming Together', with 12 guest curators from festivals across Europe set to contribute to the event. The online edition will also include live-streamed filmmaker Q&As as well as live masterclasses and panel discussions.
GFF has teamed with Festival Scope for the streaming platform, which will be via the Film Fleadh website. Features will be geo-locked to an Irish audience and limited to the capacity of Galway's Town Hall Theatre, which has long been the central venue of the festival.
GFF programme director Will Fitzgerald said: "Moving the Fleadh online doesn't mean replicating the event in a digital space but reimagining it to be the best online experience possible.
"There will be a reduced, more focused programme because we don't want to split audience attention when we don't have a physical event space keeping us all together. We want to give every film their moment in the spotlight and make every selected film part of a united conversation."
Industry platform Galway Film Fair will also move online with further details in the pipeline.
GFF CEO Miriam Allen said: "Galway's Film Fair events including our marketplace meetings will also make the transition online… with almost all of our international delegates willing to participate remotely and keep the business opportunities of our annual event in place. Our annual forum will provide an opportunity for many industry leaders to discuss what their plans are for film development and production in a post-pandemic landscape."
GFF is supported by the Arts Council, Galway 2020, Screen Ireland, Fáilte Ireland, Northern Ireland Screen. Galway has been designated as the European Capital of Culture for 2020.