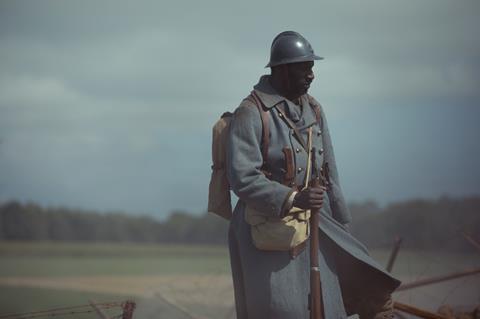 Mathieu Vadepied's French-Senegalese war drama Father & Soldier (released in France as Tirailleurs), starring and produced by Omar Sy, has become the first film released in 2023 to garner one million admissions in France following its opening by Gaumont on January 4.
The film hit the ground running in its first weekend of release, selling over 456,000 tickets and taking the number two spot at the box office behind Avatar: The Way Of Water, but ahead of Puss In Boots: The Last Wish. The momentum continues as the film is still going strong on 970 screens and has not seen a significant dip week-on-week since its release with 281,155 tickets sold in its second week in theatres, 176,551 in the third.
Inspired by the true stories of the men drafted from French colonies to fight in the First World War, Sy plays a father who enlists in the French army to join his son who was drafted against his will as the two face the horrors of war together. Alassane Diong co-stars with Jonas Bloquet, Bamar Kane and Oumar Sey.
Shot in France and Senegal, Father & Soldier is produced by Bruno Nahon's Unité alongside Sy's production company Korokoro with Gaumont, France 3 Cinema, Mille Soleils and Sy Possible Africa. Gaumont is handling international sales for the title, which has sold across the globe but is still looking for a distributor in the US and the UK. It premiered at Un Certain Regard at Cannes 2022.
The million-ticket triumph of Father & Soldier is good news for French-language titles at the French box office since the first local film to cross the million admissions mark in 2022 was Serial (Bad) Weddings 3 in April 2022. Only eight French titles garnered more than one million tickets last year.
As anticipated local-language blockbuster Pathé's Asterix & Obelisk: The Middle Kingdom hits theatres today, February 1, Gaumont is bolstering the release of Father & Soldier by amping up screenings geared towards students in partnerships with schools throughout France. Given the historical storyline, the distributor has been working closely with the country's national education system.
Father & Soldier is the second feature from director Vadepied who met Sy when the two worked together on Intouchables.
Upcoming Gaumont releases include Tristan Séguéla's For Better And For Worse starring Fabrice Luchini and Catherine Frot on February 15 and François Ozon's anticipated Unifrance Rendez-Vous opener The Crime is Mine on March 8.