At the rate of recent growth, it will take 700 years for women's representation in the media to reach gender equality. That's not good enough for Geena Davis, the Oscar-winning American actress and founder of the Geena Davis Institute on Gender in Media.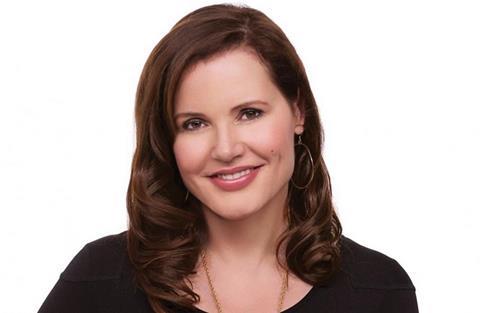 "I don't think it's going to take 700 years for this change to happen. From what I've seen we're going to be able to take off both the zeros and move the needle very soon," she said today at her Institute's first international symposium, presented in London during the BFI London Film Festival in collaboration with the BFI and WFTV.
"The ratio of male and female characters has been exactly the same since 1946," she lamented of male roles outnumbering females by three to one in most children's film and TV shows.
Davis noted that this is a global issue across society. For example, it's hard to change overnight the fact that only 17% of business leaders are women, but it's easier and quicker to change female representation on screen…"The change must be immediate and dramatic," she said.
"In all the sectors of society how long will it take to reach gender parity? One category can be changed overnight – on screen. In the time it takes to create a television show or a movie, we can change. There aren't enough female CEOs in the world, there can be half female CEOs on screen [immediately]."
As an example, she cited the direct impact of the CSI TV franchises, where the majority of the forensic scientists on the show are played by women. "In real life the number of women wanting to enter that profession has skyrocketed," noted Davis, citing a statistic that some forensic science courses have a three-to-one ratio of female-to-male students.
"This is change that can happen, it's doable, it's easy, it can be fun and exciting and inventive," she said in a funny and rousing speech to a packed house at NFT1 at the BFI Southbank today.
Davis spoke about her own career as well. "Acting is what brought me to this profound passion about how women are depicted…I try to help empower women by choosing the roles I choose to play. Playing roles I believe will resonate with women. I've only played role models." Showcasing impeccable comic timing she added, "It's true I was in Earth Girls Are Easy a long time ago (1988). We can put that one title aside."
She continued, "As an actor I've been long aware there are fewer great parts for women. Many of them are not that interesting, they are often not that vital to the plot, they are often the girlfriend. I have had the incredible parts like in Thelma & Louise and A League Of Their Own. I've also played the first female president of the US on TV [in Commander In Chief].
"These experiences led me to a profound interest in the way women and girls are depicted on screen. Thelma & Louise changed the course of my life. It cemented my passion for wanting to help empower women."
Speaking about 1991's Thelma & Louise, now seen as a groundbreaking work showing strong female characters on screen, she said the passionate response to the film took the team by surprise. "None of us knew that the film would strike a nerve," she said. "It brought home to me in a very striking way how few opportunities we give women the feeling to be empowered by the female characters they see on screen."
"Ever since that, I've made choices with that in mind, with the women in the audience in mind. What are they going to make of my character?"
Davis understands that she's in a privileged position in making career choices now. "I can only be this choosy because so far I have not run out of money yet. You can't be as fussy as all that unless you can afford to wait for good parts. If you read that I've signed on to play Sean Connery's comatose wife in a movie, you'll know I'm broke."
The Institute started after Davis watched children's TV programmes with her young daughter more than a decade ago. "I immediately noticed that there seemed to be far fewer female characters in what's aimed at little kids. Surely in the 21st century we should be showing kids that boys and girls should be sharing the sandbox equally."
She brought up the disparity with her industry contacts. "They said, 'Oh no, that's been fixed.' They said, 'This is something that we're aware of…they would name a movie with one female character as proof that gender inequality had been fixed."
Davis delved into some baffling statistics — such as in crowd scenes in films, the percentage of women is only 17%. That's in live action and even in animated films. "How could that possibly happen?," she asked. " I don't know the answer why, perhaps Hollywood writers think women don't gather," she quipped. But more seriously she added, "What if we are enculturating people — kids from the beginning — to see 17% women as the norm? We are showing a message that women and girls have far less value than men and boys."
Other problems include children's media showing the workforce as 81% male, and showing women as the girlfriends and sexually charged characters. "In some animated films, the waist of the female character is so small that you have to wonder, could you fit a spinal column in there?" she said.
"The more hours of TV a girl watches the fewer options she thinks she has, the more hours a boy watches, the more sexist he becomes," she said.
Data is an important step towards change – the Institute has done a number of studies about gender in media. After revealing some of this depressing data to Hollywood executives, she says change is coming. Of the executives that learn about the data, 68% of people said it had impacted two or more of their projects and 41% said it impacted four or more of their projects.
Screen will publish a full report on the Symposium on Friday.