Films from Russia, Kosovo and Serbia were the main winners at this year's FilmFestival Cottbus and its parallel East-West co-production market Connecting Cottbus.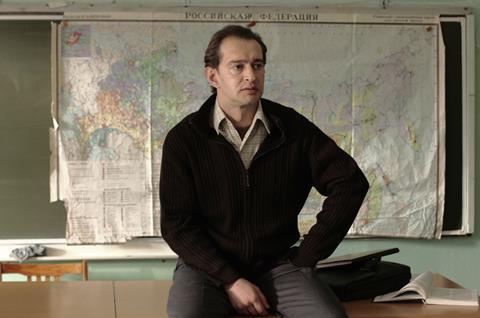 Russian director Aleksandr Veledinsky's The Geographer Drank His Globe Away has continued its successful international festival career by picking up the Main Prize at Germany's Cottbus festival with a cash award of €20,000.
The International Competition Jury praised Veledinsky's "exquisite mastery of his craft and great playfulness" in its motivation.
Handled internationally by Moscow-based Ant!pode Sales & Distribution, The Geographer Drank His Globe Away was released theatrically on almost 500 screens in Russia last Thursday (Nov 7) as well as in the Ukraine, Belarus and Kazakhstan. Forthcoming festival invitations include the Black Nights Festival in Tallinn and festivals in Tromsø and Göteborg.
Winning the festival's Main Prize also gives Veledinsky and his producers the opportunity to return to Cottbus next year as part of Connecting Cottbus' Special Pitch Award for them to present a new film project at the co-production forum.
Meanwhile, the jury gave its Special Prize for Best Director to fellow Russian film-maker Yury Bykov's The Major which was the only Russian film in an official competition – the Directors' Fortnight – in Cannes this year.
The acting awards went to Michaela Bendlová for her role in Juraj Lehotský's Miracle and to the prominent Bosnian film and theatre actor Emir Hadžihafizbegovic for his portrayal of the father in Slovenian director Goran Vojnović's Chefurs Raus!.
The jury comprised sales agent Luc Ntonga, Slovak film-maker Mira Fornay, actor Stipe Erceg, Ukrainian distributor-producer Denis Ivanov and French actress Elisabeth Duda.
Independent jury awards
Other awards announced at the weekend's closing ceremony were the FIPRESCI Prize for Igor Cobileanski's feature debut The Unsaved; the DIALOGUE Prize for Intercultural Communication to Yael Reuveny's Israeli-German co-production Farewell Mr Schwarz and the prize for Best Debut to Bodo Kox's The Girl In The Wardrobe.
The Audience Award went to Pepe Danquart's Run Boy Run, which opened this year's edition of FilmFestival Cottbus on Nov 5 and recieved its international premiere in Rome.
The Ecumenical Jury presented its award to Serbian director Miloš Pušić's Withering, which had been a project at a previous edition of Connecting Cottbus and premiered at this year's Karlovy Vary International Film Festival.
The film's Swiss co-producer Serkan Tastemur of Zurich-based Secondo Film told ScreenDaily that his distribution arm will release Withering in Swiss cinemas, and the Berlin-based sales company-distributor AF-Media has already sealed deals for the film to Germany, The Netherlands, France and the UK.
Kosovo wins Best Pitch again
While doom and gloom dominated many of the titles in the festival's main competition, save for such films as Veledinsky's prize-winner and Vinko Bresan's hit comedy The Priest's Children from Croatia, the latter two of East European cinema's "three D's" – drugs, death and depression – held sway in the lineup of Connecting Cottbus (CoCo).
The East-West co-production market celebrated its 15th anniversary with producers from Kosovo winning the CoCo Best Pitch Award for the second year in a row.
Husband-and-wife team, producer-screenwriter Keka Kreshnik Berisha and writer-director Blerta Zeqiri's project Marriage was voted the best pitch by the market's participants, receiving a €1,500 cash award and, for the first time, a free accreditation to next year's Producers Network in Cannes for the producer.
The €450,000 production, which centres on a love triangle with a gay twist, has already received €150,000 financing from the Kosovo Cinematography Center, although LGBT issues are a taboo subject in Kosovo's macho society where gay men often marry as a way of hiding their true persuasion.
Berisha added that interest had been shown by potential French co-producers when the project was presented at Paris Projects in July, and he was looking particularly for German production partners in Cottbus.
Meanwhile, this year's CoCo Post Pitch Award was decided by a jury of veteran French producer Antoine de Clermont-Tonnerre, MAIA Workshops' Gabriele Brunnenmeyer and The Post Republic's Rebekka Garrido.
Colour correction and production of a DCP are promised by The Post Republic for Ognjen Glavonic's The Load, a drama set during the NATO bombing of Serbia in 1999.
Glavonic revealed in Cottbus during his pitch that the lead role will be played by Croatian actor Leon Lucev who has previously appeared in such films as Grbavica and Circles.
Review of successes
In a review of the results from past editions of Connecting Cottbus, producers from such films as The Photograph, Withering, Roxanne, Tangerines and Modris showed extracts from their films and spoke about the forum's significance for finding the right partners for their projects.
In addition, Berlin-based Nicole Gerhards of Niko Film reported that shooting on the Kosovar project, Three Windows and a Hanging – pitched in Cottbus in 2012 and the winner of the Best Pitch Award – has been completed, while principal photography has now begun on a second film, Mum and Other Loonies In The Family by Hungarian director Ibolya Fekete, which was first presented in Cottbus in 2009.
This year's Connecting Cottbus attracted participants from all over Europe, including sales agents EastWest Filmdistribution, Insomnia, New Europe Film Sales and Wild Bunch, VoD aggregator Under The Milky Way, producers Guido Schwab (ostlicht filmproduktion), Eike Gorecka (42film), Heino Deckert (ma.ja.de.), Stephane Zajdenweber (f2.8 Pictures), Alexander Ris (Neue Mediopolis), and public funders from Medienboard Berlin-Brandenburg, Italy's FVG Audiovisual Fund, the Polish Film Institute, MDM, Lithuanian Film Centre, and the Macedonian Film Fund.