The iconic filmmaker was the father of the modern zombie film.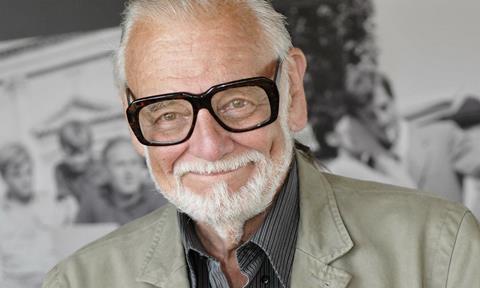 Director George Romero, creator of the Night Of The Living Dead films, has died aged 77.
According to a statement released to The L.A. Times by his producing partner Peter Grunwald, Romero died following a "brief but aggressive" battle with lung cancer.
He is survived by his wife, Suzanne Desrocher Romero, and daughter, Tina Romero.
Romero's low budget 1968 film Night Of The Living Dead was hugely profitable and became a cult hit. By re-defining what a "zombie" was in the horror genre, it influenced countless future films and TV shows.
The film also spawned several official sequels directed by Romero, including Dawn Of The Dead, Day Of The Dead and Land Of The Dead.
Romero's other films included The Crazies (1973), Knightriders (1981), Monkey Shines (1988) and Bruiser (2000).
It was announced in May that he was working on the upcoming George A. Romero Presents: Road of the Dead with his long-term collaborator Matt Birman.
Tributes
Filmmakers are paying tribute to Romero on Twitter following his death.
Guillermo del Toro said: "Romero has passed away. Hard to find words right now. The loss is so enormous."
Mark Gatiss said: "A fond farewell to charming, legendary zombie king George Romero. 'Martin' is one of my favourite horrors. An honour to have met him. RIP"
Eli Roth said: "Just heard the news about George Romero. Hard to quantify how much he inspired me & what he did for cinema. Condolences to his family.
Sean Baker added: "Heartbroken over the passing of George Romero. A true genius of the medium. Groundbreaking, humanistic, subversive, iconic, trend-setting."