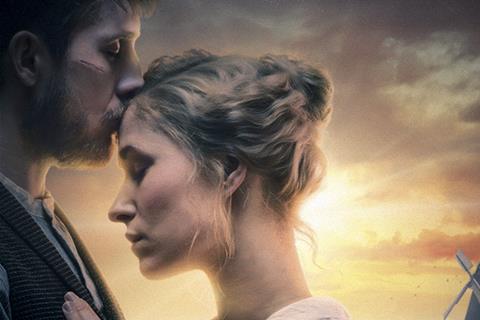 Hamburg-based production company Tamtam Film is expanding into distribution to release the Danish filmmaker Kasper Torsting's feature debut In Love And War in German cinemas on October 15.
The Danish-German-Czech co-production between Tamtam Film, Fridthjof Film, Nordfilm and Film United had its world premiere at the Filmfest Hamburg in 2018.
Based on actual events in South Jutland during the First World War, the screenplay by Ronnie Fridthjof and Torsting centres on a Danish soldier who has involuntarily been fighting on the side of the Germans and feigns injury in order to get away from the front and back to his wife and son. However, in his absence, the world he knew has changed drastically as a charming German officer has taken his place as a father and is now trying to win his wife's affections.
Speaking to Screen during this week's Filmfest Hamburg, producer Andrea Schütte explained the film's release had been timed to coincide with 100th anniversary of the peaceful settlement of the German-Danish border in 1920.
She said that the film had been booked to screen at 20 locations in northern Germany.
Schütte added the focus of the company's distribution activity would be handling its own productions, although she did not rule out taking on third party titles in the future.
Booking and billing for In Love And War is being managed by the fledgling Hamburg-based distribution and production company Notsold which was launched this February by Henriette Ahrens and Ole Hellwig.
The company scored its first success with the digital world premiere of Hellwig's feature documentary 100.000 – Alles, was ich nie wollte, which sold 50,000 tickets in a limited release of just 24 hours over the Easter weekend.
"They are great partners for us because they are very similar to us in their approach and way of thinking," Schütte said. "They look at each project with fresh eyes and don't just follow established structures."
Tamtam Film is currently in postproduction on Wendla Nölle's feature debut, love story Die große Freiheit, starring Dagmar Manzel and the Swedish actor Rolf Lassgård (A Man Called Ove) as a couple in their early 60s whose relationship is put to the test by the wife's encroaching multiple sclerosis. Pluto Film is already in place to handle the film's world sales.
Meanwhile, the Filmfest's industry guests will be able to learn more about one of the films on Tamtam Film's development slate when Kerstin Polte's screenplay for her next feature film Blindgänger will be featured during an AI-focused online masterclass on Friday morning (October 29) in CinemaxX 3 cinema.
The tragicomedy revolving around unexploded bombs in Hamburg's Schanzenviertel district is set to go into production next year.
The Filmfest Hamburg is running from September 24 to October 3.