London-based GFM is partnering with Japanese powerhouse Toei Animation on $30 million animated feature Harlock: Space Pirate, a 3D sci-fi motion capture animated film praised by James Cameron.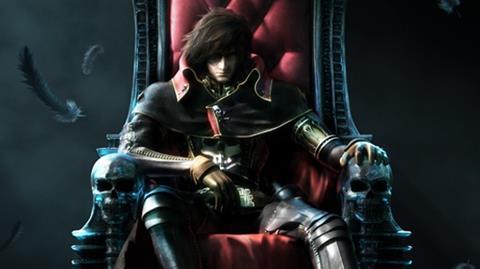 Harlock is billed as the biggest budget film that Toei has yet made.
GFM, run by Guy Collins, Fred Hedman and Michael Ryan, begins pre-sales in Cannes where it will be showing a 15 minute promo reel.
The British company is working closely with Toei producer Joseph Chou.
Almost all territories are available excluding Japan (where Toei will be overseeing a 400 to 500 screen Japanese release in September) and some Asian countries where Chou's team had closed deals before GFM came on board.
"This is a real attempt for a high-end Japanese motion capture animation to find a significant position in US and international (markets)," Collins commented.
The producers are in the process of re-voicing the film with recognized US and European actors.
Collins said that the film had recently been screened to James Cameron in the US, who gave his seal of approval, praising the epic scope and imagination of the project.
In Cannes, GFM will also give a market debut to new eco-drama Bhopal: A Prayer For Rain, set against the backdrop of the Union Carbide disaster in 1984 and starring Kal Penn, Mischa Barton and Martin Sheen.
The British company is already developing another Bhopal-themed film, an adaptation of Indra Sinha's Booker shortlisted Animal's People.
"That's why we sent to see it (Bhopal: A Prayer For Rain) and we were blown away by it," Collins commented of the film, directed by Ravi Kumar. The film is likely to be targeted at an autumn festival.
Also showcased by GFM at the market is 3D family adventure Legendary, starring Dolph Lundgren.
Lundgren will be in Cannes to meet distributors. Several territories have already been pre-sold, among them Germany (Telepool) and France (First Independent). The film was made as a China/UK coproduction.