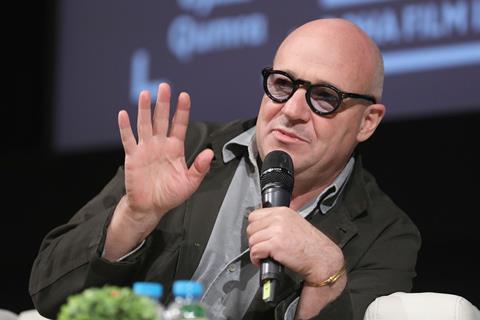 Italian filmmaker Gianfranco Rosi is renowned in documentary circles for the immersive and lengthy processes behind his work which can result in him living months, and often years, in the place or with the community he wants to capture on film.
He spent more than a year on the Italian island of Lampedusa in preparation for his Oscar-nominated, Berlinale Golden Bear-winning work Fire At Sea, juxtaposing the dramatic arrival of refugees on its shores with the routine lives of the locals.
He shot his 2008 work Below Sea Level – revolving around a community of disparate California flatland squatters – over the course of five years, initially ending up there himself at a low ebb in his life.
Rosi told a masterclass at the Doha Film Institute's talent development event Qumra this weekend that the act of taking time was at the very heart of his work.
"You have to be able to grab something from the inside, that has something universal, something unique. This is why time is my biggest ally in my work," Rosi explained.
"Without time, I wouldn't be able to make films in such depth. Time allows the person and the situation to change and to grow. I create a narrative on the days of change, sometimes things pass by in front of you and you have to be able to capture something very small and very fast."
Rosi explained it was an approach he had developed over many years, kicking-off with his debut 1993 feature-documentary Boatman, capturing the rituals of life and death on the Ganges river around the sacred city of Varanasi, or Benares.
He recalled how he had stumbled on Gopal, the boatman who frames the documentary, by chance when he took a day off to go sight-seeing after a fruitless two-months frantically searching for an angle or storyline around which to frame a documentary on the holy city.
"I spent more than two months with my Eclair, a small camera with a six-minute reel, wandering around the streets of Benares… looking for some idea, for something worth shooting for my first frame. It was a total disaster."
Having resigned himself to the fact that he was not going to make a film about Varanasi, Rosi decided to go sight-seeing on the banks of the Ganges, an area he had avoided during his stay.
"I went without a camera and met this man by accident who became the main character of the film. I spent 10 minutes, then 20 minutes, then half an hour, then a whole day just wandering from one place to another place. He was telling me stories, extremely funny, witty.
When I went back to my hotel I thought to myself, 'This is how the film should be, one day on the Ganges from the point of view of a tourist'," explained the director.
Rosi's hasty attempt to film Gopal and life on the Ganges in the small amount he had left failed to yield the results he wanted and the filmmaker returned home, deeming the whole trip a disaster.
It was only on looking at the rushes six months later, that he saw the beginnings of a film. He spent five years, travelling back and forth to the city when he had spare money and time and the weather was good enough to shoot.
"Slowly, slowly, the film became a recollection of the day I spent with him. And that became very important to understand," said Rosi. "It's important when you make a film to have a core and then somehow you re-create that core."
It's an approach he has continued to develop ever since, making just five features and two shorts over a 25-year-period.
Middle East Project
Rosi's stay in Doha saw him take a break from his current project Nocturne exploring border areas across the Middle East through what goes on there at night.
He explained that the project had grown out of Fire At Sea and a desire to explore the places of origin of some of the refugees he had witnessed arriving on Lampedusa.
He was reluctant to give details on the project which he began working on just two months ago, saying he had hoped to keep it under wraps.
"There is not really much I can say at this moment. It's definitely shot in the Middle East and I focus on borders, these borders that are somehow a betrayal of history and born in 1916, designed by someone with a brandy and a cigar. These borders have changed the destiny of populations," he explained.
"I want to encounter daily stories, people's stories on normality in this world that has nothing normal, with conflict, pain and harshness. The challenge is to find daily stories which are universal in this place, which is in the middle of a very hard moment of its history," he continued.
"It's challenging. I've spent two months without a camera here just going around meeting people, encountering stories, fragments and I am going to start shooting again probably next month… I don't know what kind of film it will be," he added. "It will take a lot of time and a lot of effort to try to tell this story which has already been told in so many ways but I felt I had to go back to fix something that has been so exposed and find a different angle on that."