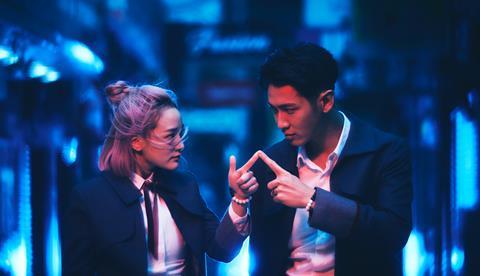 Taiwanese director Giddens Ko is reuniting with actor Kai Ko in a new whimsical romance, Till We Meet Again, which is being positioned as a summer blockbuster by producer-distributor Machi Xcelsior Studios.
The film also stars popular actresses Vivian Sung (Our Times) and Gingle Wang (Detention). Kai Ko starred in Giddens Ko's You Are The Apple Of My Eye, which was a huge hit in Taiwan and across the region in 2011.
Till We Meet Again is adapted by Ko, a novelist-turned-director, from one of his best-selling books God Of Love, written under the pseudonym Nine Knives.
The story follows a young man who, after being struck dead by lightning, takes on the odd job as a matchmaking god to tie men and women together with red strings, while trying to retrieve the lost memory of his previous life.
The project is financed as a rare Taiwan-Korea co-production, with Machi Xcelsior as a main investor, along with Taiwanese production companies Third Man Entertainment, Fist of Fear and Harvest 9 Road Entertainment, and South Korea's Hive Filmworks.
"This ambitious project is one of the largest-scale fantasy adventure films – it blends romance with traditional Taiwanese folktales and Giddens Ko's idea of the underworld," said Machi Xcelsior Studios CEO Lu Wei-Chun, who was previously sales director for 20th Century Fox's Taiwan office.
"We have deep faith in the director and believe that he can present a unique story with distinctive visual that can intrigue the international audiences."
Till We Meet Again is the third film directed by Giddens Ko following You Are The Apple Of My Eye and 2017 release Mon Mon Mon Monsters.
Machi is handling international sales on the film, which is its first production. The company was founded in 2018 by singer-turned-film producer Jeffrey Huang, who was also an investor in Wei Te-Sheng's historical epic Warriors Of The Rainbow: Seediq Bale (2011).
After Huang's Taipei-based company acquired the film rights to God Of Love around March 2019, production began in mid-December and post-production started right away after filming wrapped in February last year. The film is still in post-production because it is heavy on VFX.
Machi is also a distributor of Taiwanese films, handling titles released this year such as mystery thriller Plurality and zombie horror Sadness, as well as last year's horror hit Rope Curse 2, all of which it either fully financed or co-financed.