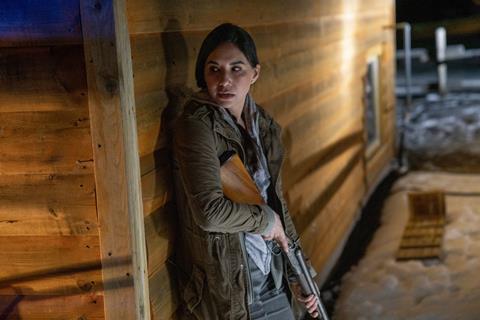 A clarion call has rung out to support genre films by Indigenous peoples in North America and beyond and back filmmakers to tell their own stories on the big screen at an artist talk at the 25th edition of Canada's Fantasia International Film Festival.
In an eye-opening presentation entitled 'Haunting The National Consciousness: The Rise Of Indigenous Horror', assistant professor at the Portland State University department of Indigenous nations studies Kali Simmons, who is of Oglala Lakota descent, called for Indigenous filmmakers to be allowed to change centuries of prejudice, hurdles and misrepresentation on the big screen.
"If you are a non-Indigenous person, and you love Indigenous stories, you should start loving Indigenous stories told by Indigenous peoples," Simmons said during the Zoom event ths month. "Rather than trying to tell the story yourselves, give resources to Indigenous people so that they can tell the story."
Films playing or that have played at Fantasia this year with Indigenous themes include Don't Say Its Name, Catch The Fair One, and the short film She Whistles.
Simmons said she would like to see more diversity of opportunities and stories, not just to tell Indigenous stories but to tell any story that an Indigenous filmmaker wants to tell.
The academic mulled over why works by Indigenous artists – including Jeff Barnaby, Cherie Dimaline, Stephen Graham Jones, Waubgeshig Rice, Gwaii Edenshaw and Helen-Haig Brown – challenge the notions of genre filmmaking.
"Indigenous peoples have been depicted on screen since the dawn of cinema, the invention of the motion picture," Simmons said. "Native peoples didn't start making films in the 1960s and the 1970s; rather there was a lot of Indigenous filmmakers at the beginning of film." She cited the silent movie work of Princess Redwing and James Young Deer as example.
Simmons mourned the loss of early examples of Indigenous filmmaking to mismanagement and misfortune (a 1920s film The Werewolf was lost to a fire at Universal Studios) and decades of misrepresentation of native peoples, their stories and customs on screen in North America and beyond in the service of settler-colonialism.
"In the past decade there's been this explosion of genre works by Indigenous peoples," Simmons said. "Normally when people think of Indigenous peoples they think western, they maybe think documentary or historical drama. They don't tend to think sci-fi and horror. But thanks to the labour of generations of ancestors and activists, stories created by Indigenous peoples in the sort of unusual genres are starting to hit the mainstream."
Simmons cited an article by Haudenosaunee writer Alicia Elliott titled 'The Rise of Indigenous Horror' which noted "many non-Indigenous horror writers depict situations that Indigenous people have already weathered."
The recent exposure of genocidal violence against Indigenous children within the residential "school" programmes which operated in Canada and the United States highlight the truth of this observation even more.
Simmons described writer-director Jeff Barnaby's feature film debut Rhymes For Young Ghouls as a touchstone piece for Indigenous filmmakers and their ambitions.
Set in 1976 on a fictional Red Crow Mi'kmaq reservation, Barnaby's film details the story of a teenage girl against the backdrop of the Canadian residential school system and the history of abuse of the First Nations people by government agents, including a large number of reported cases of the mental and physical abuse of residential school children.
She noted the film included animation elements and native people's language and "dispels this myth that Indigenous peoples are incompatible with modality and modern technology".
Another project to inspire and fuel Indigenous filmmaking passions is Edge Of The Knife, a 2018 Canadian drama co-directed by Gwaai Edenshaw and Helen Haig-Brown set in pre-colonial 19th century Canada.
The first feature film spoken only in the Haida language, Edge Of The Knife details the classic Haida story of a traumatised and stranded man transformed into Gaagiixiid, the wildman.
"It's the result of nearly a decade of community collaboration and was first developed during some planning workshops led by the Council of the Haida nation," said Simmons.
Certainly Simmons and Fantasia artistic director Mitch Davis, who introduced the event, believe the horror genre has the potential to unsettle audiences in meaningful ways in a time of catastrophic and terrifying change.
"Let Indigenous people take the lead and make whatever they want," Simmons said. "That'd be dope."
Fantasia is running as a hybrid event this year until August 25.