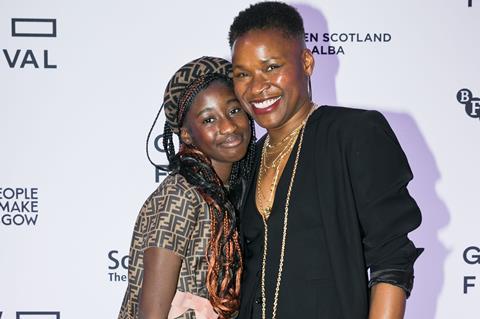 Glasgow Film Festival (GFF) has reported a 25% increase in cinema admissions for this year's edition, which ran from March 1-12, compared to the hybrid 2022 edition, while the in-person industry presence has bounced back to pre-pandemic levels.
In total, 33,667 people attended 295 GFF film screenings and events over 12 days, including sell-out screenings of the opening night gala, Adura ONashile's Girl, closing night film, Nida Manzoor's Polite Society and Under The Skin with a live soundtrack from BBC Scottish Symphony Orchestra.
This figure doesn't quite match up to the record audience levels of 2020, which saw 43,147 admissions.
The GFF industry strand enjoyed a return to pre-pandemic levels, with around 600 press and industry delegates attending in-person. Last year, 565 industry delegates took part online and in-person.
Over 2,000 people attended the festival's free retrospective programme, In The Driving Seat – a record number for the series, which started in 2016.
Allison Gardner, GFF co-director, said: "Every year I am astounded at the support, loyalty and knowledge of those audiences who take a chance on the curated programme, but this year they were exceptionally generous and we were incredibly busy, with audiences up 25% on 2022 across a similar number of events.
"The discussions, debates and love of cinema was clear and it warms my heart to see audiences taking a chance and supporting emerging talent. Whilst I am sad that Allan Hunter has left, I know his work over the last 17 years has created a festival that will go on to be a trusted place for film lovers into the future."
"It felt as if festival audiences were back in full force, hungry to experience all the delights that home-grown productions and world cinema has to offer.," added outgoing co-director Hunter. "The waves of love for Carol Morley's Typist Artist Pirate King and the audience award for Anthony Shim's Riceboy Sleeps should alert UK distributors to the potential that lies in these particular titles and so many others that were premieres in Glasgow."